Relocating within the Greater Boston area or moving to Boston? There's a good chance cost is a big factor as you consider where to settle down. Massachusetts is one of the most expensive states to live in, and the Boston cost of living is notoriously high – it's one of the top three most expensive cities in the U.S. The average Boston household spends 46% of its income on bills with an average mortgage payment of more than $3,250 according to Doxo. The median home price in Boston is $800,000 with average rent of more than $3,600!
The good news is there are many affordable towns and cities in the Boston metropolitan area within commuting distance. Here's a look at the top affordable Boston suburbs including the best Boston suburbs for commuting and the cheapest places to rent in Boston. Note that we only included suburbs with low crime rates well below the national average!
Ayer, MA – One of the Most Affordable Towns Near Boston with Commuter Rail Service
A good choice for families and commuters alike, Ayer is one of the most affordable Boston suburbs with good schools. Ayer is known for its historic downtown, country clubs, and great outdoor amenities like the Sandy Pond Beach and the Spacious Skies Campgrounds. Enjoy an easy commute to Boston on the Fitchburg Line of the MBTA commuter rail!
Lynn, MA – One of the Best Affordable Suburbs of Boston for Millennials & Commuters
One of the largest cities in Massachusetts, Lynn is also the cheapest Boston suburb has something to offer for everyone. It's less than four miles outside the Boston city limits and one of the cheapest places to live near Boston in the inner urban core. You'll love living on the shore of Nahant Bay and Broad Sound with excellent parks, public art, a fun downtown district, and modern loft-style apartments.
Families and millennials will find plenty of things to do in Lynn from Nahant Beach and King's Beach to hiking in Lynn Woods to exploring the downtown Lynn Cultural District with live music, shopping, and dining.
Learn more with our complete guide to living in Lynn, MA!
Beverly, MA – One of the Top Affordable Boston Suburbs on the Coast
Looking for affordable places to live near Boston on the shore? You'll love living in Beverly, a diverse city known for its resorts and manufacturing centers. Beverly is one of the best places to live outside of Boston if you love spending time on the beach and want nearby entertainment. Catch live music or dinner and a show at the North Shore Music Theatre, enjoy evening walks along the shore at Dane Street Beach, and watch the latest release or touring show at The Cabot, an ornate 1920s theater in the walkable downtown area.
Learn more with our guide to moving to Beverly, MA.
Salem, MA – Best Place to Live Outside of Boston for Amenities, History & Low Cost of Living
Famous for the Salem Witch Trials of 1692, Salem is a great place to live for history buffs, outdoor enthusiasts, and young professionals. Enjoy easy access to Boston on the MBTA with tons of amenities to enjoy in your own backyard.
You'll find tons of museums in Salem like The Witch House at Salem and Salem Pioneer Village, a living history museum and one of the filming sites for the Hocus Pocus movie. Salem offers excellent beaches, parks, and recreation including the Salem Willows Park amusement park on the beach and the sandy Dead Horse Beach, a perfect place for kayaking.
Best of all, the cost of living in Salem, MA is lower than the Massachusetts average with rent and home prices far below the Boston average.
You can learn more in our in-depth guide to living in Salem, MA.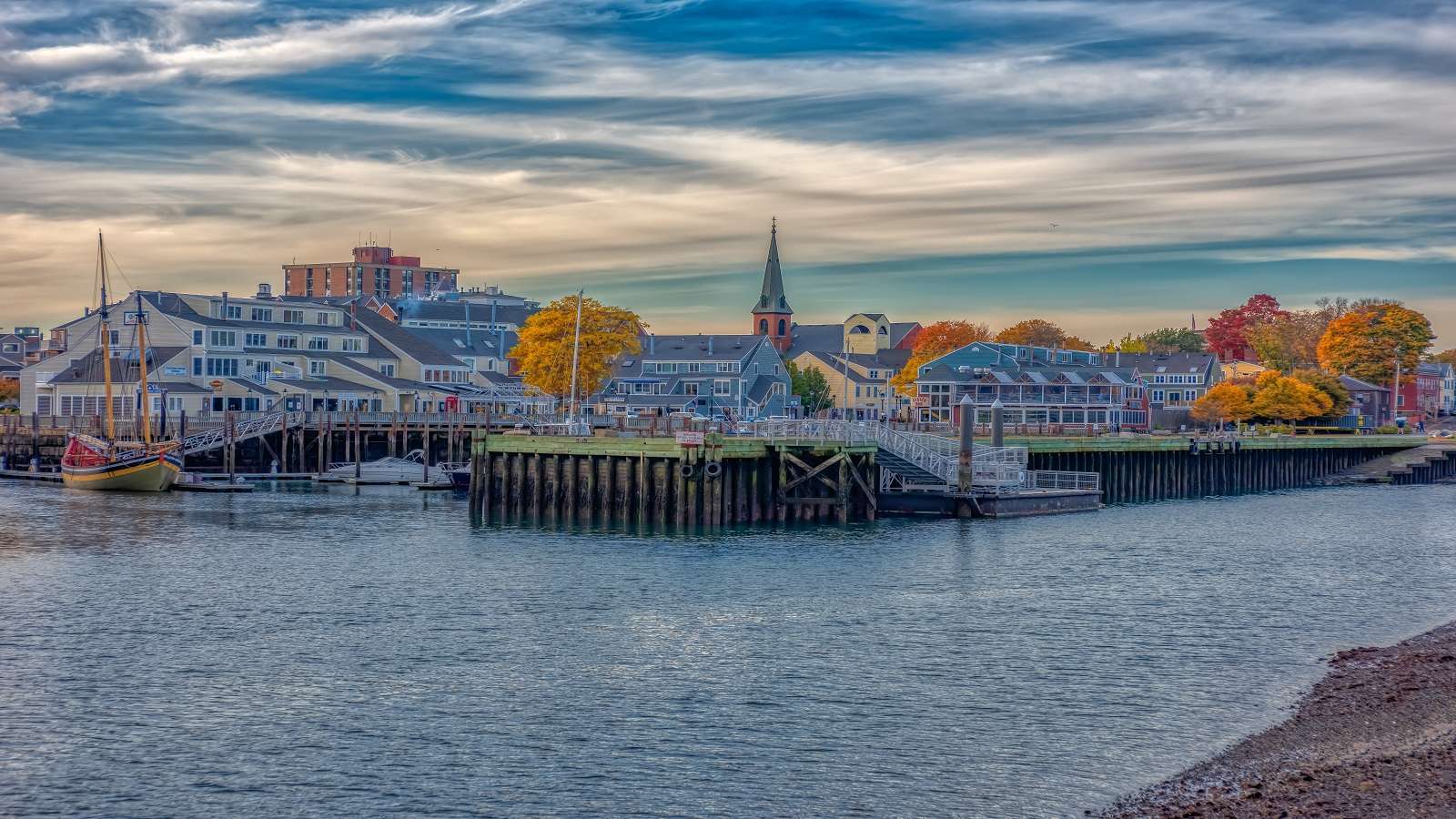 Wakefield, MA – One of the Best Boston Suburbs for Families with Low Crime & Affordable Rent
Ranked one of the best places to live in the state, Wakefield is also one of the cheapest places to live in MA! While Wakefield, MA home prices are high, it's still a steal compared to Boston real estate and it's very affordable for renters. Wakefield is one of a handful of affordable cities near Boston with a good school district along with very low crime.
The city is centered on Lake Quannapowitt, the best place to live in the city and the center of summer activities and recreation. If you live on the lake, you can walk to downtown Wakefield with entertainment and restaurants!
Learn more about living in Wakefield, MA with our in-depth guide.
Danvers, MA – Best Place to Live Near Boston MA for History Buffs, Boaters & Outdoor Enthusiasts
Danvers is one of the cheapest towns to live in near Boston with its own rich history. It was closely associated with the 1692 Salem Witch Trials and once known for the Danvers State Hospital, a psychiatric hospital of the 19th century. Today, Danvers is famous for its water recreation with one of the Water Park of New England, beautiful beaches, and the Danvers River.
It's hard to believe you can find this quality of life, safety, and amenities with a cost of living in the Boston suburbs 20% lower than the city.
Is Danvers the right Boston suburb for you? Check our guide to living in Danvers, MA!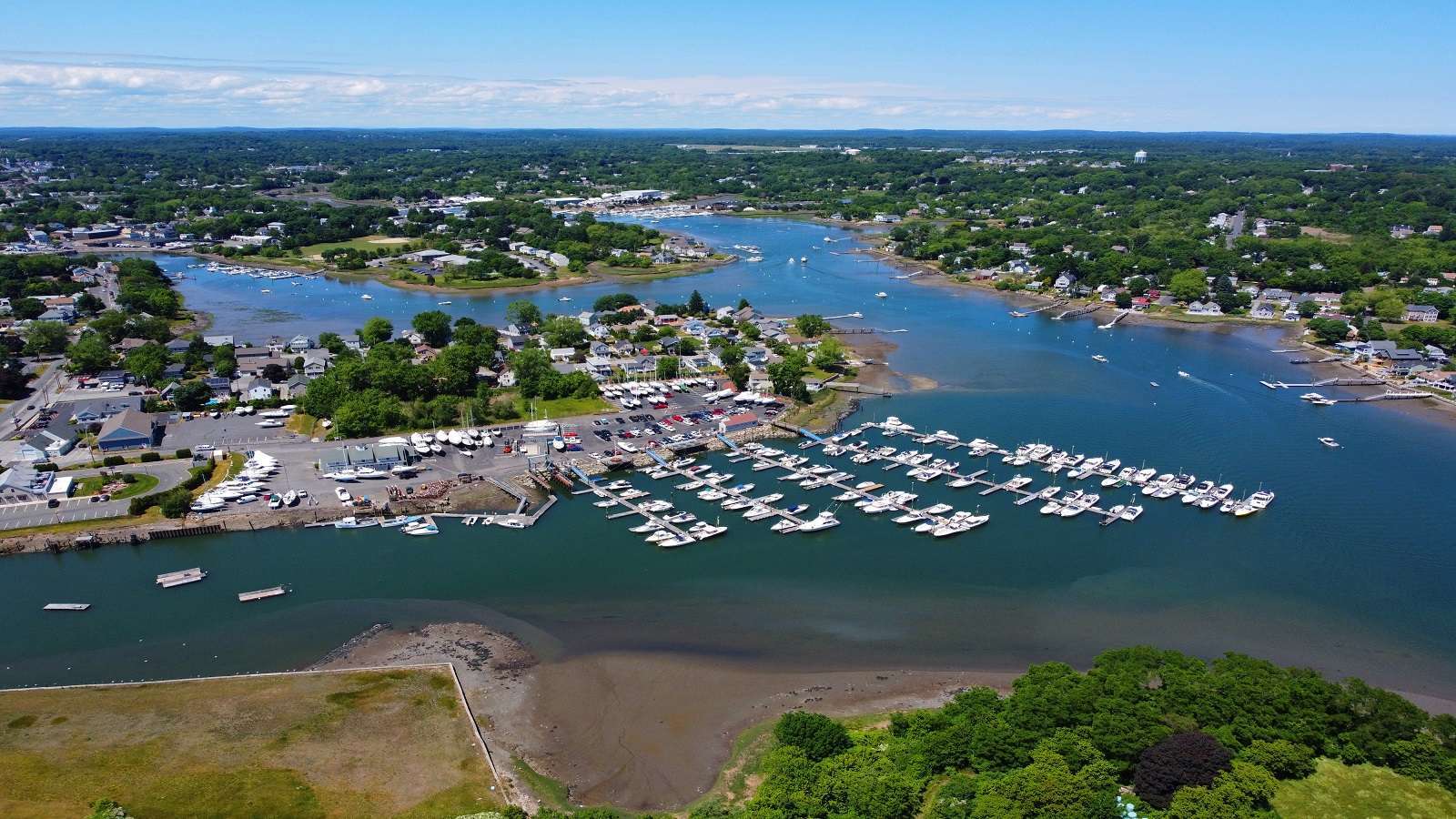 Peabody, MA – One of the Best Boston Suburbs to Buy a House
Dreaming of homeownership but high Boston home prices standing in your way? Renters save an average of $1,200 per month by renting in Peabody versus Boston while Peabody, MA home prices are around $250,000 lower! You'll find plenty of great neighborhoods in Peabody if you're buying.
Peabody is no more than 30 minutes north of Boston with a nearby commuter rail station in neighboring Salem, also a hotspot for entertainment and recreation. It's also intersected by the Yankee Division Highway and U.S. Route 1, and I-95 which makes it easy to get to other Boston suburbs.
Make sure you check our complete guide to living in Peabody, MA to learn more!
Woburn, MA – One of the Few Cheap Places to Live Near Boston With a Downtown Commute Under 20 Minutes
Woburn is one of the most affordable Boston suburbs in the inner urban ring and with a commute to downtown Boston less than 20 minutes. A popular choice for young professionals and commuters, it's under 12 miles to downtown and served by the MBTA commuter rail. Woburn is on the more expensive side on this list given its close proximity to Boston, but it's still 17% cheaper than living in Boston!
Along with a short commute, there's plenty to love about living in this suburb. Woburn boasts excellent outdoor recreation including the Horn Pond Recreation Area, a cranberry bog conservation, and the Middlesex Canal Trail. Just outside the city limits is the Middlesex Fells Reservation, one of the most popular parks in Massachusetts and home to the Stone Zoo.
Our guide to living in Woburn, MA covers everything you want to know about this affordable Boston suburb!
Waltham, MA – One of the Best Boston Suburbs for Commuting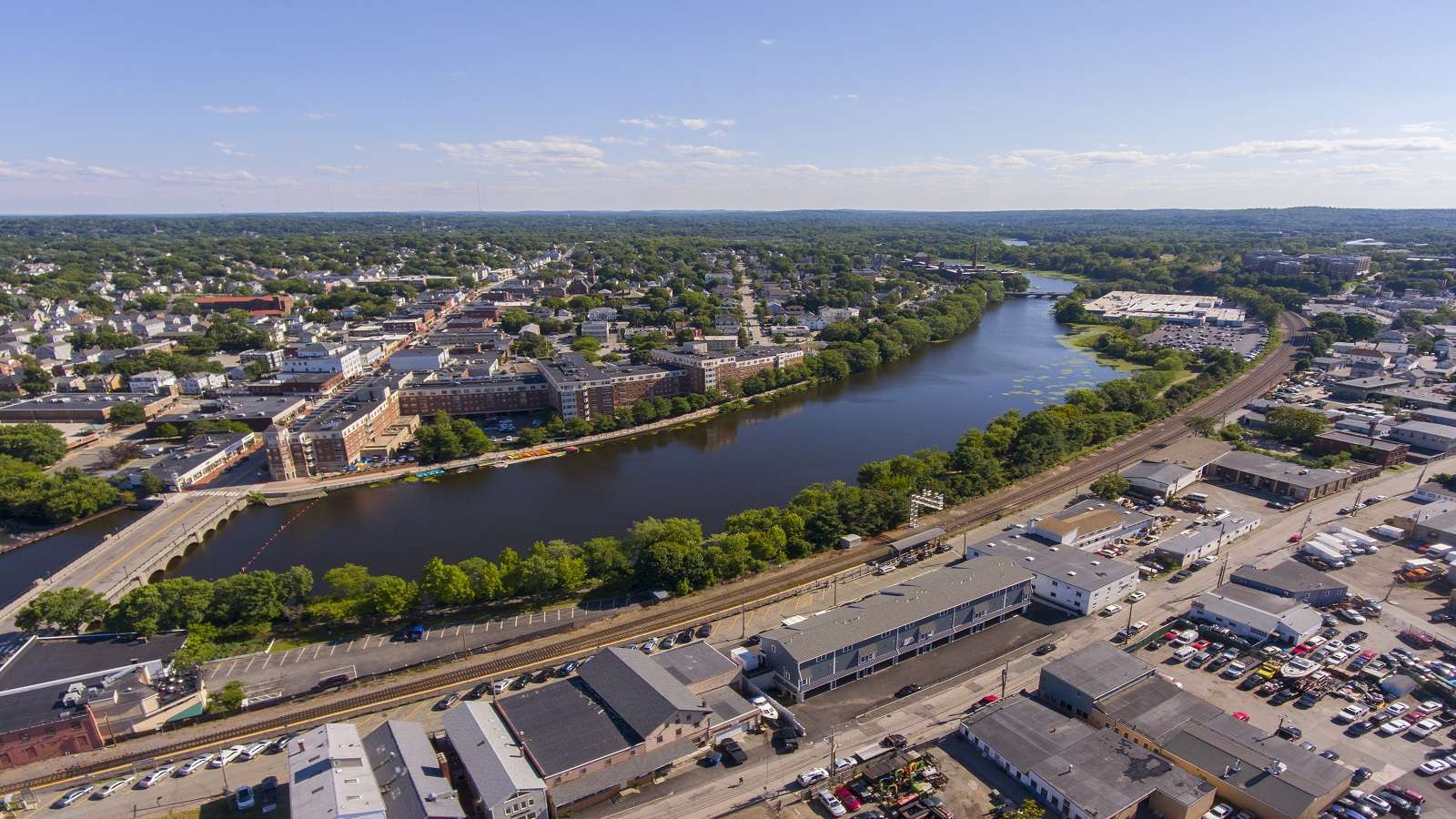 Waltham has long been one of the cheapest areas to live in Boston, although home prices and rent have increased over the last two decades as more people move further out of Boston in search of more affordable housing.
The cost of living in Waltham is much higher than the national average and higher than most affordable suburbs of Boston on this list. Still, it offers great affordability considering it's just 20 minutes out of downtown with an easy commute on the Waltham commuter rail. Rent is around $900 cheaper than Boston and home prices are more than $100,000 cheaper!
Along with affordability, Waltham offers gorgeous parks and outdoor recreation on the Charles River and at Prospect Hill Park and the Beaver Brook North Reservation. There are several historical attractions and museums in the city including the historic Lyman Estate.
Find out if living in Waltham is right for you with our complete guide to the city.
Affordable Suburbs of Boston Map
Ready to enjoy a low cost of living and easy access to the city in one of these great, affordable Boston suburbs? Call the 5-star Boston movers at Mass Bay Movers today for a free estimate and a seamless, worry-free moving day!