Are you visiting the Boston or Cape Cod area or thinking about moving to the region? One of the most historic and beautiful areas to explore is the Boston South Shore region home to famous towns like Plymouth, gorgeous beaches, lighthouses, and quaint Massachusetts towns. The South Shore Massachusetts area starts immediately south of Boston and it's known for its affluence, rich history, and beautiful beaches.
Here's a complete guide to the many South Shore Massachusetts towns you'll want to visit and the best South Shore beaches and attractions.
What Is the South Shore of Massachusetts?
South Shore Massachusetts refers to the region between Boston and Cape Cod along Cape Cod Bay and Massachusetts Bay. The South Shore MA region is part of the larger Southeastern Massachusetts region. The Boston South Shore area can be defined in many ways to include cities and towns in the eastern portions of Norfolk and Plymouth counties. The most traditional definition refers only to the 11 coastal towns in Massachusetts south of Boston, but the term usually includes several inland towns and cities.
The Massachusetts South Shore is part of the Greater Boston metropolitan area with a combination of historic coastal towns, rural communities, mid-sized cities, and affluent resort communities. Overall an affluent and historic area, the South Shore of Massachusetts is sometimes called the Irish Riviera because it's home to 6 of the 10 "most Irish towns in America."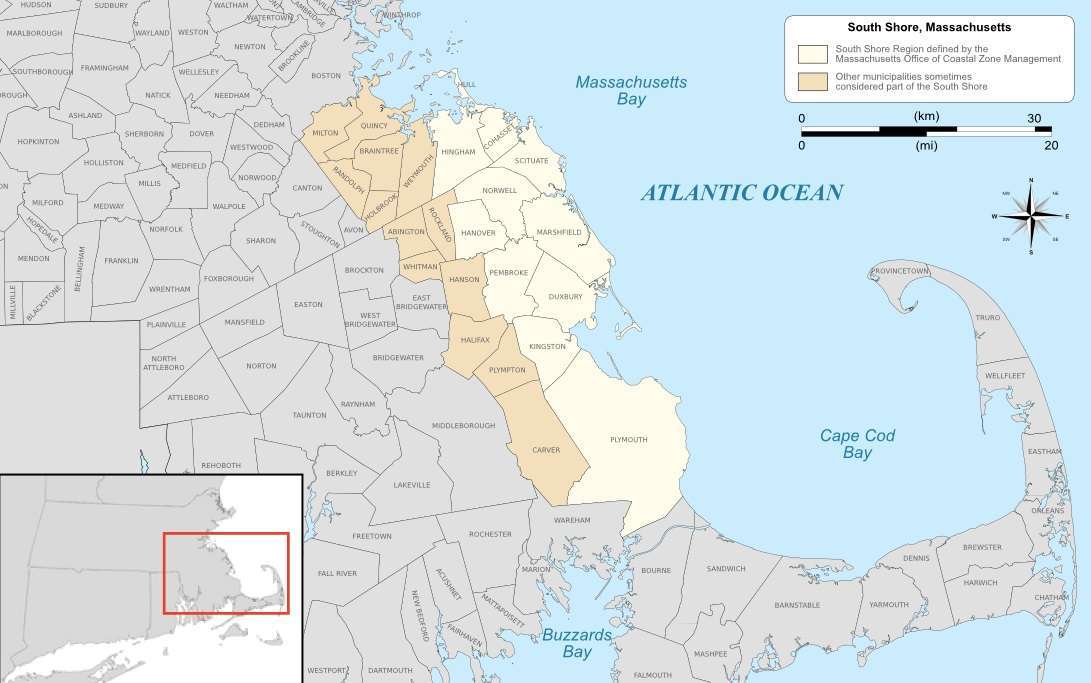 South Shore Massachusetts Towns – Coastal Massachusetts Towns South of Boston
Eleven towns and cities make up the coastal South Shore Boston area. These coastal South Shore towns in MA stretch from just south of Boston to the beginning of Cape Cod. Here's an overview of the coastal Massachusetts towns in the region listed by population and what each is known for.
Population: 101,636
Area: 16.57 SQ MI
Median household income: $80,462
Median home price: $624,000
Quincy to Boston: 9.8 miles
Quincy is the only city on the South Shore and one of the ten largest cities in Massachusetts. Famous as the City of Presidents and the birthplace of Presidents John Adams and John Quincy Adams, Quincy also has a reputation as the cheapest town to live in Massachusetts if you're looking for a short commute to Boston and don't want to give up the amenities of a larger city. It's one of the immediate southern suburbs of Boston and across Neponset River from Dorchester, the largest Boston neighborhood. Quincy boasts several top South Shore MA beaches including Squantum Point Park with a fishing pier and views of the harbor and the Boston skyline.
Learn more about this beautiful South Shore Boston suburb in our complete guide to living in Quincy.
Population: 61,217
Area: 96.43 SQ MI
Median household income: $92,757
Median home price: $558,000
Plymouth to Boston: 40 miles
One of the most famous Massachusetts coastal towns, Plymouth was the site of the first settlement of the Pilgrims and founded in 1620. The second largest among South Shore Massachusetts towns by population, Plymouth is today the quintessential New England town with rich history, great schools, beautiful beaches, and upscale amenities. Visitors love attractions like the Plimoth Patuxet Museums which recreates a 17th century Pilgrim village while residents appreciate the slower pace of life with Boston about an hour away or Cape Cod just eight miles over the bridge. There's always something to do in Plymouth whether it's kayaking on the pond, festivals and concerts on the waterfront, or shopping at the Village Green.
Population: 57,437
Area: 16.77 SQ MI
Median household income: $85,536
Median home price: $520,000
Weymouth to Boston: 16.3 miles
Wedged between Quincy, Braintree, Randolph, Holbrook, and Hingham on the bay is the city of Weymouth. Officially the Town of Weymouth, it's actually a city yet retains its town name. It's one of several MA coastal towns immediately south of Boston and the second oldest settlement in the state. Once home to a strong abolitionist movement, this small, affluent town is today the most affordable place to buy a home on South Shore Massachusetts.
Famously one of the most affordable South Shore towns, Weymouth is one of the best Boston suburbs for commuting with MBTA rail and bus service.
View this post on Instagram
Population: 39,143
Area: 13.76 SQ MI
Median household income: $101,544
Median home price: $558,500
Braintree to Boston: 13.7 miles
The Town of Braintree, officially a city that retains its town name, is one of the best beach towns near Boston with fairly affordable home prices and an easy commute. Residents enjoy commuter rail service to South Station in Boston, CapeFLYER rail service to Hyannis, Cape Cod, and MBTA Red Line service all from the Braintree Station.
Braintree was originally part of Boston before becoming its own municipality, later splitting into present-day Braintree, Holbrook, Randolph, and Quincy. Braintree, along with Scituate, have the highest concentration of Irish Americans in the U.S.
Population: 25,825
Area: 28.65 SQ MI
Median household income: $105,067
Median home price: $625,000
Marshfield to Boston: 30.5 miles
The town of Marshfield is home to some of the best South Shore beaches including the small, rocky Brant Rock Beach, the central Rexhame Beach, and the pristine Green Harbor Beach along Green Harbor. This sandy Marshfield beach is contiguous with Duxbury Beach and located where the Green Harbor and Cut rivers flow into the harbor. Marshfield is also known for its many nature preserves like Mass Audubon's Daniel Webster Wildlife Sanctuary and the huge Marshfield Fair which has been held every year since 1867.
Population: 24,284
Area: 22.20 SQ MI
Median household income: $147,520
Median home price: $1.34 million
Hingham to Boston: 16.8 miles
Hingham is one of the cutest towns in Massachusetts with so much to offer visitors and residents alike. Located on the Boston Harbor, it's frequently rated as the best place to live outside of Boston for families and one of the best places to live in Massachusetts overall. Hingham is known for its colonial history, affluence, and quaint, historic main street lined with historic homes. It has more millionaires than any other South Shore MA town.
The best beach town in Massachusetts for scenery, great schools, beautiful homes, and an easy commute to Boston, you'll love spending time at Hingham harbor and the marina, hiking at Wompatuck State Park, and exploring the 251-acre World's End hiking area.
Population: 19,063
Area: 17.21 SQ MI
Median household income: $122,241
Median home price: $765,000
Scituate to Boston: 31.2 miles
Scituate is one of the smallest South Shore Massachusetts towns but one of the most iconic. The town is one of the backbones of the Irish Riviera with the highest concentration of Irish Americans in the country. Scituate is best known for its lighthouses. The Scituate Lighthouse or Old Scituate Light on the north side of Scituate Harbor was constructed in 1810 and Minot's Ledge Light, or just Minot's Light, is just a mile off Scituate Neck and constructed in 1947. It's nicknamed the "I love you lighthouse" thanks to its 1-4-3 light pattern.
View this post on Instagram
Population: 16,090
Area: 23.70 SQ MI
Median household income: $126,889
Median home price: $3.17 million
Duxbury to Boston: 34.7 miles
Duxbury is one of the most beautiful coastal towns in MA with dramatic scenery and picturesque homes. A popular destination for South Shore Boston sightseeing, be sure to drive over Powder Point Bridge to Duxbury Beach on the isthmus and take in the sight of the Duxbury Pier Lighthouse. A drive along the Duxbury Bay is also one of the top things to do on South Shore MA to see the grand estates built during the town's shipbuilding era when it was the New World's largest center for shipbuilding. The gorgeous views in Duxbury come at a high premium: it has the most expensive South Shore Massachusetts real estate!
Population: 13,708
Area: 18.64 SQ MI
Median household income: $95,197
Median home price: $585,000
Kingston to Boston: 36.9 miles
The Boston South Shore town of Kingston is famous for its shipbuilding history and the Jones River Landing, the longest continuously operated boat yard on the continent. The USS Independence was built here and has become an icon of the town. Mostly a residential community today, the town is home to many cranberry growers and commercial fisherman. Kingston is also home to Grays Beach Park, one of the best South Shore MA beaches thanks to its clean facilities, soft sand, playground, ample parking, and large grassy area.
Population: 10,072
Area: 2.87 SQ MI
Median household income: $105,403
Median home price: $575,000
Hull to Boston: 23.9 miles
The town of Hull is the smallest town by area in Plymouth County and one of the smallest towns in the Massachusetts but densely populated. Located on the southern edge of Boston Harbor on a peninsula, Hull is famous for the Nantasket Beach resort community. For generations, it's been the summer home of well-known Massachusetts politicians like John F. Fitzgerald, Rose Kennedy's father and former mayor of Boston, and Calvin Coolidge.
Population: 8,381
Area: 9.79 SQ MI
Median household income: $141,036
Median home price: $1.15 million
Cohasset to Boston: 27.3 miles
Cohasset is one of the best beach towns in Massachusetts known for its affluence and romantic views of the bay and Minot's Ledge Lighthouse. The small town shares the 600-acre Whitney and Thayer Woods with Hingham with miles of trails to explore and it has one of the best examples of early New England village greens.
View this post on Instagram
Other South Shore Towns
Broader definitions of the South Shore Massachusetts region include inland towns in eastern Norfolk and Plymouth counties. Here are other towns in Southeastern Massachusetts that may also be considered part of the Boston South Shore.
Inland South Shore Towns in MA
Town
Population
County
Distance from Boston
Randolph
34,984
Norfolk
17.2 mi
Milton
28,630
Norfolk
10.3 mi
Canton
24,370
Norfolk
20.5 mi
Pembroke
18,361
Plymouth
31.1 mi
Rockland
17,803
Plymouth
22.9 mi
Abington
17,062
Plymouth
22.3 mi
Whitman
15,121
Plymouth
24.2 mi
Hanover
14,833
Plymouth
25.4 mi
Carver
11,645
Plymouth
46.0 mi
Holbrook
11,405
Norfolk
18.1 mi
Norwell
11,351
Plymouth
25.9 mi
Hanson
10,639
Plymouth
27.4 mi
Halifax
7,518
Plymouth
38.3 mi
Plympton
2,930
Plymouth
42.5 mi
Is one of these charming coastal towns in Massachusetts calling to you? If you're ready to become more than just a tourist and make the Boston South Shore your home, give us a call at Mass Bay Movers for a free moving quote. Our South Shore Boston movers are ready to deliver the seamless and worry-free moving day you need so you can start your new life on the bay as soon as possible.