As two of the greatest cities in the United States, many people find themselves deciding between whether they should live in Boston or Chicago. And while both cities have their advantages and disadvantages, a comparison of Boston vs. Chicago will give you an excellent idea of which city is right for you and your lifestyle.
Learn about the ways Boston is superior to Chicago and the ways they are different. This is the leading guide to choosing between Boston and Chicago to help you know what to expect, depending on where you decide to live.
Pros & Cons of Living in Boston vs. Chicago
Deciding which of these leading cities is the best choice for you greatly depends on your needs, your income, and what is ideal for you and your family. Both Boston and Chicago have their own benefits and disadvantages, making a comparison of the two a great place to start.
Living in Boston Pros
Great Job Opportunities
One of the greatest benefits of moving to Boston is the huge opportunity to work for a top-rated, reliable company. The city is filled with high-level employers such as the Massachusetts General Hospital, Vertex Pharmaceuticals, local universities, as well as Fidelity Investments. Along with these local companies, other big names like Amazon, Google, and Microsoft also provide great Boston jobs for residents.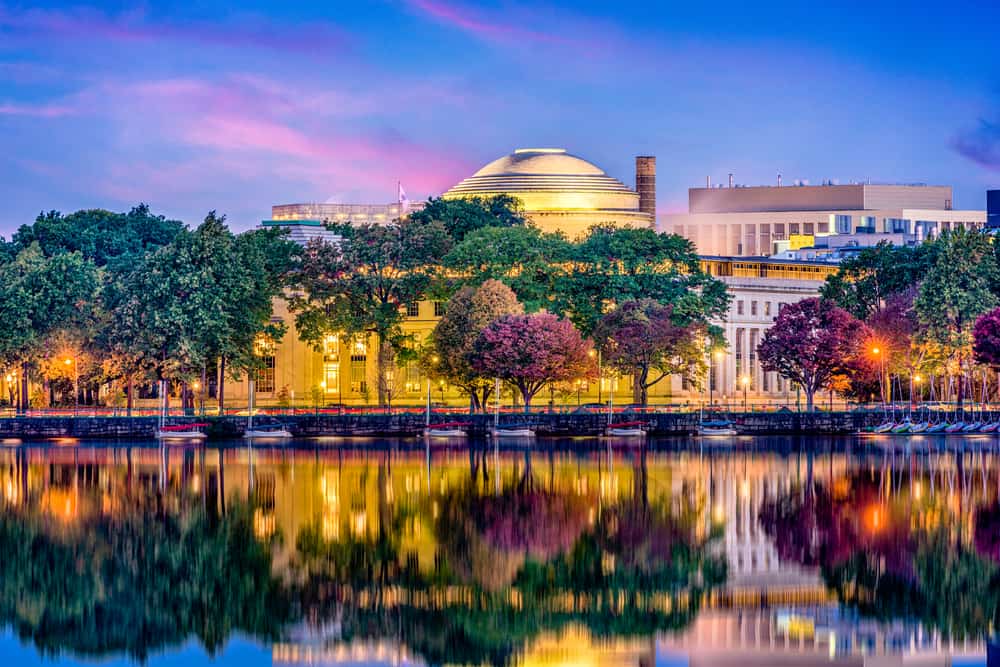 Boston Has Some of the Top-Rated Schools in the Country
Whether you have kids attending primary school or you're a college student, Boston is home to some of the nation's most influential schools. Spread across nearby suburbs like Cambridge and Medford, many of the local universities rank among the top 50 colleges in the United States. This includes the programs at Massachusetts Institute of Technology (MIT), Harvard, Tufts University, Boston College, Boston University, and Northeastern University.
Incredible American History
Among the many fun things to do and highlights of Boston, a look at its local history is enough to keep you engaged for years to come. From the colonization to the American Revolution, the area is home to local landmarks that include:
Freedom Trail

Boston Harbor (site of the Boston Tea Party)

USS Constitution Museum

Fenway Park

Paul Revere House

Fort Independence

Bunker Hill Monument

And many more
Living in Boston Cons
Higher Cost of Living is a Challenge
Boston frequently finds itself among the most expensive cities in the U.S. With the exception of local transportation, the cost of living in Boston is higher than it is in Chicago. This is mainly due to the Boston housing market which currently shows the average price of a home is $633,178, though you can find more affordable homes in nearby suburbs around Boston.
Difficult Public Transportation is a Drawback
While a comparison of the pluses and minuses between Boston and Chicago will show that it is more affordable to travel in Boston, public transportation in the area does have some issues. It can be hard to get the hang of the various subway lines, which are often running behind schedule.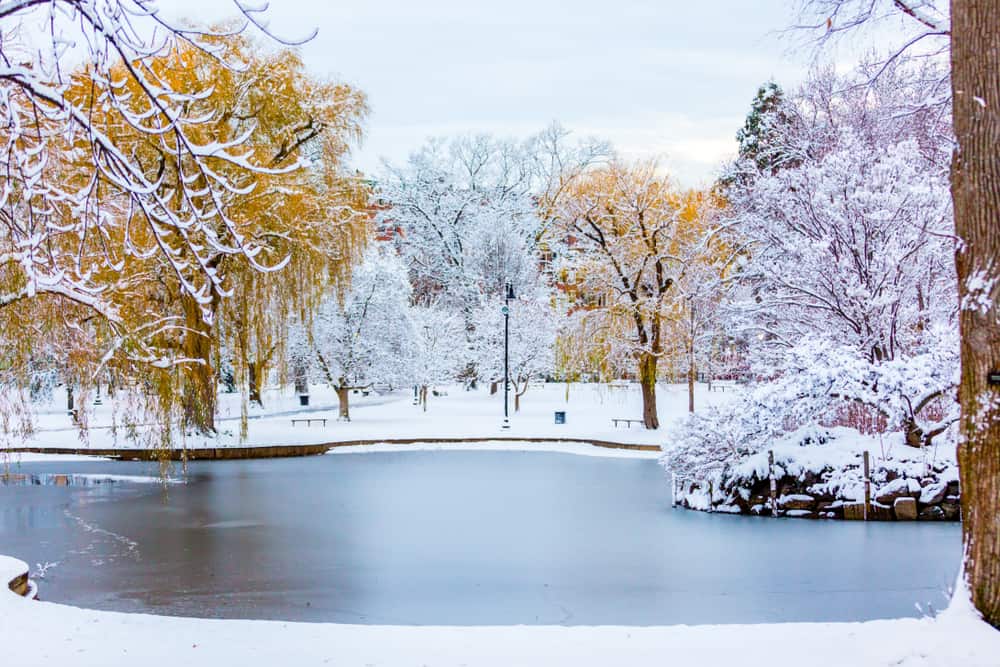 Cold Winters
Unless you're a big fan of snow, Boston weather could be considered one of its cons for a few months of the year. The area sees an average of 48 inches of annual snowfall and temperatures that can easily linger in the teens with occasional nights where it creeps below 0°F. Though when winter is over, people thoroughly enjoy the cool, breezy summers Boston has to offer.
Living in Chicago Pros
Great Local Food Scene
A walk around downtown Chicago will yield a close look at a few of its many places to eat. Both locals and visitors enjoy everything from Chicago hot dogs to Chicago-style pizza. There is even Chicago-style popcorn, which is a salty and sweet mix of caramel and cheddar cheese popcorn.
Affordable City Living is a Plus
Most people move to a big city expecting to pay a premium for their living expenses. But you may be surprised to know that average Chicago housing costs 1% less than the U.S. average. Residents living there also pay less for groceries, healthcare, and local utilities than national averages.
Gorgeous and Extravagant Architecture
Are you a fan of incredibly tall buildings? Chicago is home to some of the tallest structures in the nation along with other beautiful places all around town. A few of the top buildings to see in Chicago are:
The Tower at St. Jane Hotel

Willis Tower (third-tallest building in the United States at 1,451 ft)

Elks National Memorial Building

The Rookery – Frank Lloyd Wright

Trump International Hotel and Tower

Avalon Regal Theater
Living in Chicago Cons
Expect Heavy Traffic
If you plan to drive yourself around Chicago, you should prepare to sit in standstill traffic on a fairly consistent occasion. Due to minimal highways, city travel can be difficult and time-consuming.
Big City as Far as the Eye Can See
While Chicago is bordered by Lake Michigan, there's minimal beach access or activities nearby. If you want to see an ocean (or even mountains), you can expect to drive for at least a day or two before reaching one or the other.
Chicago's High Tax Rates are a Weakness
With the fourth-highest sales and income tax percentages in the United States, people in Chicago pay an average of 11% for their taxes. So while the overall cost of living is fairly good, much of this is balanced in the other direction by high tax rates.
The Cost of Living in Boston vs. Chicago
According to Numbeo, most factors within the Boston vs. Chicago cost of living index show there is a significant difference between the two cities.
Housing Market in Boston is 162% higher than in Chicago

Rent Prices in Boston are 27.47% higher than in Chicago

Restaurant Prices in Boston are 6.38% higher than in Chicago

Groceries Prices in Boston are 5.26% higher than in Chicago

A gallon of milk is $0.30 less in Chicago

A loaf of bread is $0.07 less in Chicago

A pound of rice is $0.12 less in Boston

A dozen eggs are $0.29 less in Chicago
To compensate for the higher cost of living, people in Boston do have a higher median household income of $71,834, compared to Chicago which is $57,238.
Additional Things to Consider Between Boston vs. Chicago
Population
You'll find a major difference between the geographic size as well as the Boston vs. Chicago population. Boston is home to 695,926 people within 90 square miles, adding up to about 7,732 people per square mile. While Chicago houses a massive population of 2.71 million across 234 square miles, meaning there are a staggering 11,581 people per square mile.
As you can see, one of the main benefits of moving to Boston, MA is that it's far less crowded than Chicago.
Crime Rate
A review of the strengths and weaknesses between Boston and Chicago will eventually lead you to their crime statistics. While neither city is ranked among the safest cities in their own states, Boston neighborhoods have a much lower crime rate than Chicago.
Boston has noticeably lower rates in everything from violent crime to property crimes such as burglary and motor vehicle theft.
Climate Comparisons
Wondering about the difference between the Boston vs. Chicago climate? When it comes to average temperatures, the two cities are nearly identical with summer temps between the mid-60s to the low 80s and winters between the low 20s and mid-30s.
And while both cities also see an average of 200-205 sunny days per year, Boston does tend to experience about 12 inches more annual rain and snow.
Boston vs. Chicago: Where Are You Moving?
Now that you know the pros and cons between Boston and Chicago, which one sounds like the right place for you? Even though both of them have their own positives and negatives, one of them is sure to be a good fit.
Are the benefits of relocating to Boston more your style? Let Mass Bay Movers help with your transition! Call us today at (978) 587-3775 to see how our amazing Boston movers can serve you!