Planning to make a move to the Eastern seaboard? New York and Boston are two of the largest cities on the east coast and they're both part of the Northeast megalopolis or the Boston-Washington corridor. Making the decision about whether you want to live in Boston or New York can definitely be a challenge as both have so much to offer, including excellent public transit, a diverse economy, and endless cultural activities.
To help you make your decision about moving to Boston vs. New York, here's how they stack up against each other.
We'll cover everything from the cost of living in Boston vs. New York to other important information like comparative crime rates and population so you can make an informed decision about your new home.
Pros & Cons of Living in Boston vs. New York
What better way to decide which city is right for you than comparing the benefits of living in Boston with the advantages of New York. Both have strengths and weaknesses. Here's how Boston versus New York compare.
Living in Boston Pros

Rich History of Boston
One of the best benefits of moving to Boston? You can't beat Boston's rich history as America's oldest city. Its historic charm and character can be seen everywhere, from the country's oldest public school and subway system to the cobblestone streets and historic sites on the Freedom Trail. Unlike New York, where newness is valued, Boston has preserved its heritage with old and new co-mingling at every turn.
The perfect example is the Granary Burying Ground, founded in 1660 and sitting in the heart of downtown, where it's penned in on three sides by tall buildings and across from bustling bars.
Boston's Walkable Downtown
Boston is truly a city made for a stroll. You'll have no trouble exploring all of downtown and walking from Beacon Hill to the Boston Common and South End — or even across the river to Cambridge. Boston is one of the nation's most bikeable and walkable urban areas thanks to its age and condensed downtown. When it comes to Boston versus New York, you'll find it's much easier to get around Boston on foot.
Higher Education
No comparison of Boston vs. New York is complete without touching on higher education opportunities. Boston's Cambridge suburb is home to two of the most prestigious institutions in the United States: Harvard and the Massachusetts Institute of Technology (MIT). If that's not enough, Boston is home to a total of 35 colleges, community colleges, and universities with one-third of the entire state's college enrollment and just 10% of the population. New York, by comparison, doesn't have much to offer in terms of prestige.
Beautiful Boston Neighborhoods
Boston is home to 23 unique neighborhoods, each with something fun to discover. While New York offers a heavily urban environment, one of the pros of living in Boston is you're still surrounded by nature with the fall leaves, picturesque Charles River, and cobblestone walkways. Boston boasts more playgrounds and public parks per capita than any other city and it was designed with an "Emerald Necklace" of green space surrounding the city. That means every neighborhood boasts outdoor opportunities.
Endless Things to Do in Boston
Whether you love attending musical performances, taking in history, sightseeing, activities, or exploring the outdoors, Boston is an exciting hub full of attractions and fun events. One of the advantages of living in Boston is you'll never be bored! This cultural hub is home to the Boston Symphony Orchestra, the Boston Museum of Fine Arts, and the Huntington Theater Company, just a few organizations that have earned the city a spot as one of the Top 20 Arts Vibrant Cities. Spend time enjoying family-friendly activities like the New England Museum, relax on the grass at Boston Common, or go rowing on the Charles River.
Living in Boston Cons
High Cost of Living in Boston
While we'll explore the cost of living in Boston versus New York shortly, the high cost of the city is definitely a drawback to living in Boston. While Boston has excellent education, it comes at a cost.
It's Difficult to Find a Boston Rental
When comparing Boston vs. New York, the two share something in common: a congested and difficult-to-navigate rental market. In Boston, you may need to use a real estate agent to find a rental which means paying an extra fee. Most rentals are owner-occupied two- and three-unit homes, not apartment buildings, so you'll probably have a private landlord.
Living in New York Pros
New York's 24-Hour Lifestyle
If there's one area where New York comes out ahead in a showdown of Boston versus New York, it's the nightlife and 24-hour lifestyle you can enjoy in New York. NYC truly never sleeps with bars that stay open until 4am, late-night eats, nightclubs, and excitement around every corner.
NYC's International Cuisine
Boston has baked beans, clam chowder, and some of the best lobster bisque you'll ever taste, but New York definitely has the variety. One of the advantages of living in New York is the city is a melting pot of cultures and cuisines from around the world. New York's also home to a dozen iconic foods like New York-style pizza, cheesecake, pastrami, bagels, and more. People from around the world visit NY Deli's like Katz's Delicatessen.
View this post on Instagram
Living in New York Cons
New York's Fast-Paced Environment
As the city that never sleeps, NYC can be hectic at times, especially if you want a more relaxed lifestyle. For some people, this isn't a con to living in New York, but the constant hustle and bustle, noise, traffic, and crowds can wear you down.
Tiny Apartments in NYC
Enjoying the New York City lifestyle means getting used to a tiny living space. The average New York City studio apartment is just 550 square feet thanks to the high-demand market and sky-high rent which is one of the highest in the U.S. Demand is even rising for micro apartments with one new development featuring units between 265 and 360 square feet. When you compare Boston vs. New York, you'll find Boston apartments are bigger than in most cities.
The Cost of Living in Boston vs. New York
Cost of living is probably high on your list when deciding whether to live in Boston vs. NYC. The two cities make the list of top 3 most expensive cities in the United States, but New York is more expensive. Here's how the Boston vs. New York cost of living really looks according to Numbeo.
Rent is 35% higher in New York versus Boston
Restaurants are 20% higher in NYC than Boston
Consumer prices are 17% higher in New York vs. Boston
Groceries are 17% higher in New York than Boston
It takes $7,872 in New York to get the same standard of living in Boston with $6,300.
An often overlooked detail when comparing the cost of living in Boston versus New York is what you get for your rent money. While rent in Boston is definitely high, rental properties in Boston are larger than in most cities which means you get more bang for your buck. The average 1-bedroom apartment in Boston is 724 square feet and this increases to 1,024 square feet for a 2-bedroom. Note that many Boston rentals are multi-family homes, though, which aren't included in these figures and tend to be much larger.
Additional Things to Consider Between Boston vs. New York
Population
When comparing Boston vs. New York population, ask yourself, do you imagine living in a bustling metropolis or a city with a bit more space? New York City has a population that's nearly 16x larger than the city of Boston but only twice as much space. New York is the country's most densely populated city with 8.3 million people and a metro population of nearly 20 million. By comparison, the Boston population is about 694,000 and the Greater Boston area is home to 4.8 million people.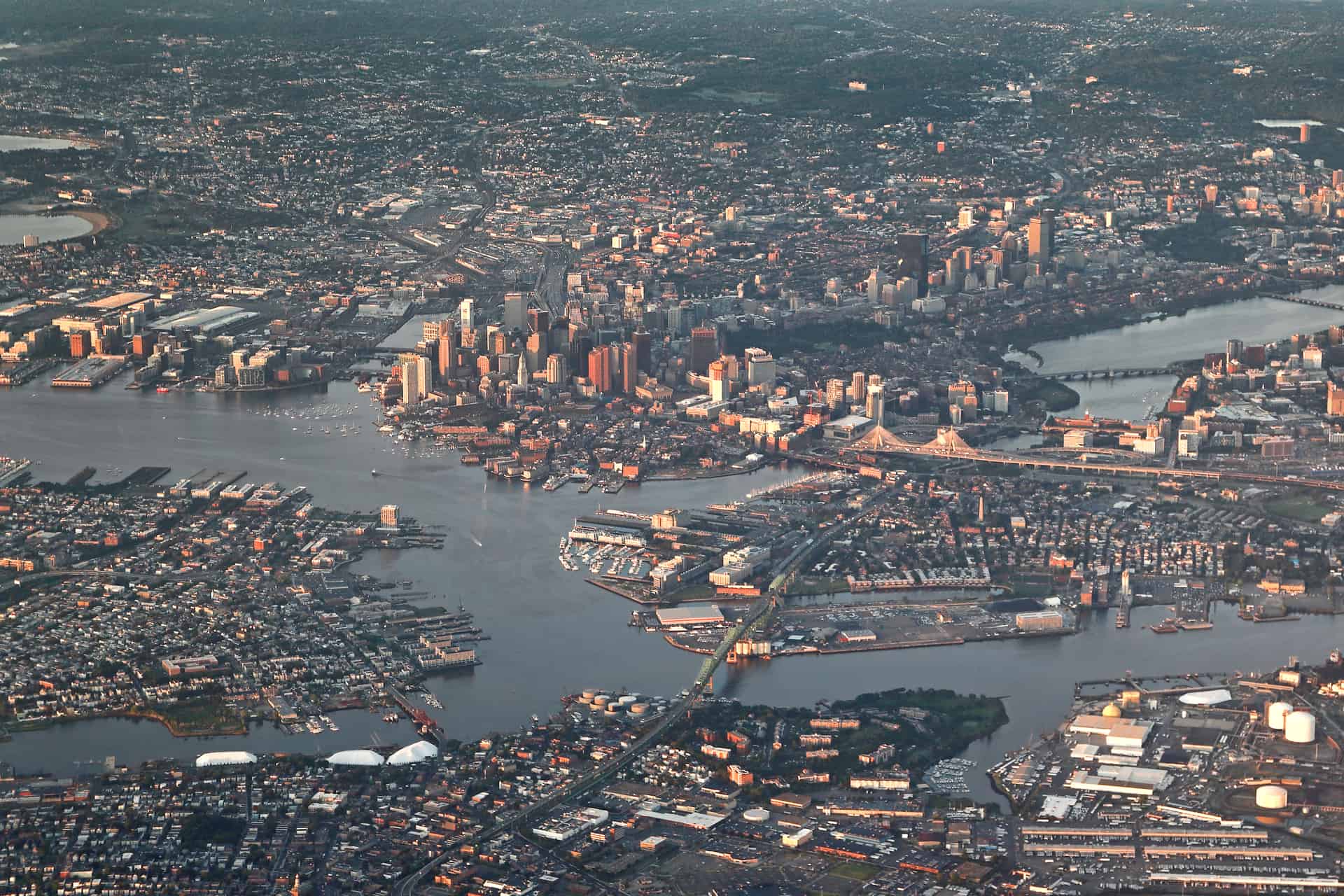 Crime Rate in Boston vs. New York
When choosing a new place to live, crime is probably a big concern. When comparing Boston vs. New York crime rates, you'll find the two cities are fairly comparable in terms of violent crime and property crime. Of course, it all depends on where you live: Boston neighborhoods like South Boston and West Roxbury are considered very safe.
Boston vs. New York Climate
The Boston climate has a reputation for its bitter, cold winters, with chilly breezes blowing off the harbor. While winters can be challenging at first, you'll find the rest of the year is as close to perfect as you could hope for. Summers are fairly mild and lack the heat and humidity of the southern cities outside of occasional heat spells in July and August. The difference between the Boston vs. New York climate mostly comes down to the winter; otherwise, the cities are fairly comparable in terms of weather.
Boston vs. New York: Where Are You Moving?
Now that you have a better idea of what you can expect from these two major East Coast cities, where will you end up: Boston or New York? Both cities definitely have a lot to offer anyone, despite their high cost of living, but the decision will probably come down to your lifestyle.
If you're leaning toward moving to Boston versus New York City, the Boston movers at Mass Bay Movers is here to help. Our professional movers are equipped to make your relocation a seamless and stress-free experience. Give us a call at 978-587-3775 to request a free moving estimate!