Split into multiple pieces by the Merrimack River, Pawtucket Canal, and the Concord River is the cozy Boston suburb of Lowell, MA. Though it was first settled back in 1653, the city gained significance as a major player during the American Industrial Revolution. It was home to a vast array of factories, mills, and other working buildings for many years.
The city is now home to great jobs, an affordable cost of living, and a diverse locale. To learn everything you need to know about relocating to and residing in Lowell, be sure to read through each of these sections for all the details.
1. People of Lowell, MA
Lowell is currently the fifth-largest city in Massachusetts, recently being surpassed by the city of Cambridge over the past several years. Local growth has gone both up and down with major fluctuations happening in both directions over the past couple of centuries. The Lowell population at this time is about 110,900 people, with a median age of 33 years old.
2. City of Festivals
People living in Lowell are always looking for any excuse to celebrate, which is why there is a different local festival for almost every month of the year. In February, residents celebrate Winterfest while also recognizing Lowell's birthday as it's the month the area officially became a city. In April comes the Lowell Film Festival, which features shorts, full-length films, and documentaries around the community.
View this post on Instagram
Other celebrations include Lowell Women's Week in March, the Lowell Folk Festival in July, and the Baystate Marathon in October.
3. Things to Do & Restaurants in Lowell
Are you here to make sure there are fun things to do in Lowell? You're in luck because the Lowell Heritage State Park offers two miles of waterfront along the Merrimack River where residents can go swimming, boating, or simply enjoy the beautiful scenery. And if you're looking for something a bit more interactive, head to the Lowell National Historical Park, where you can take a boat, trolley, or walking tour to learn about the history of local industry with multiple museums, exhibits, and intriguing stories along the way.
Do you want to see a movie in Lowell? Click here for movie showtimes currently playing in Lowell, MA.
View this post on Instagram

Lowell Heritage State Park, 160 Pawtucket Blvd, Lowell, MA 01854
Lowell National Historical Park
View this post on Instagram

Lowell National Historical Park, 67 Kirk St, Lowell, MA 01852
Want to know if there are any decent restaurants in Lowell? Many consider Tavern in the Square one of the best places to eat, known for its American food including burgers, chicken, BBQ, fish, burgers, sandwiches, and more. Or you can stop by Life Alive Organic Cafe, a health-centric spot recognized for their menu of organic options including wraps, salads, smoothies, and other items that are mostly vegan.
View this post on Instagram

Life Alive Organic Cafe, 194 Middle St #3, Lowell, MA 01852
View this post on Instagram

Tavern in the Square, Cross Point, 900 Chelmsford St, Lowell, MA 01851
4. Lowell Cost of Living
Apart from the lower healthcare prices, the cost of living in Lowell is generally higher than U.S. averages. But on the other hand, many expenses, including the local housing market, are more affordable than Massachusetts state average pricing.
If you're seeking out homes for sale in Lowell, MA, you'll find some great options that are generally more affordable than other Boston suburbs. The average price of a home in Lowell is $284,800, which is up about 3.3% within the last 12 months, though no additional change is anticipated in the next year.
More people rent than own in this town, with nearly 60% of the population leasing their homes or apartments. The average price of rent in Lowell varies from $1,580 per month for one-bedroom locations to $2,370 or higher per month for homes with four or more bedrooms.
5. Beautiful, Comfortable Neighborhoods in Lowell, MA
The spread of Lowell neighborhoods covers a bit more than 14 square miles, which means plenty of room and options for you to choose from. On every corner of town, you'll find great communities ranging from Centralville on the north side and Pawtucketville on the west to Belvidere on the east and the community of Ayres city at the furthest south, offering the quickest access to Boston.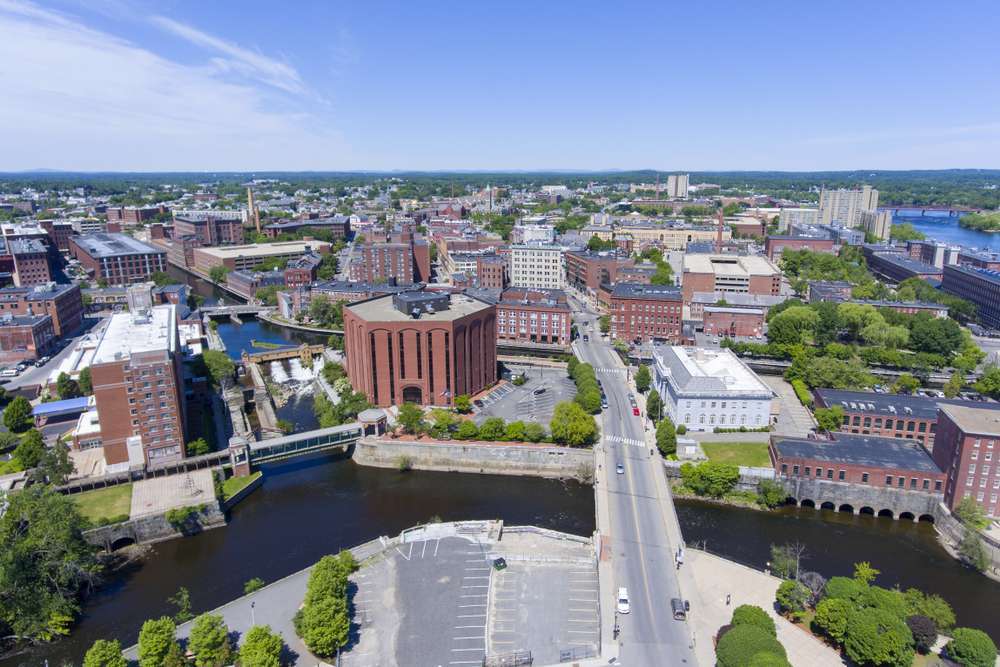 Located within Middlesex County, the city of Lowell encompasses zip codes that include 01850, 01851, 01852, and 01854. Local Lowell area codes are 978 and 351.
Lowell, MA also provides some convenient shopping places including Target, CVS, Lowe's, and Mill No. 5.
6. School Options in Lowell
With its own Lowell School District, the city hosts nearly 16,000 children who are currently enrolled in the school system. Most elementary campuses in town are for grades between kindergarten and fourth grade including S. Christa Mcauliffe Elementary, C.W. Morey Elementary, Pawtucketville Memorial Elementary, and Washington Elementary. Junior high locations are for kids between fifth and eighth grade such as Dr. An Wang School, James S Daley Middle School, and Pyne Arts Magnet School.
There is only public high school, known as Lowell High, but there are also charter options including The Career Academy and Lowell Middlesex Academy Charter School.
Lowell is also home to its own University of Massachusetts campus offering 4-year degrees and a variety of certification programs.
7. Great Jobs in Lowell
Most Boston suburbs offer great working opportunities and Lowell jobs are no exception to this standard. The city has a median household income of $48,581 and features careers in healthcare, education, tech, business management, and many others.
One of the largest employers in the city is Lowell General Hospital which hosts about 3,700 medical professionals on their roster. The city's UMass campus provides great careers for individuals with more than 2,000 employees. And Lowell is also home to the headquarters for Kronos, a large company offering HR solutions that has more than 1,600 employees.
Do you plan on making the commute from Lowell, MA to Boston for work instead? The trip is slightly over 30 miles, but the Expressway makes the trip only about 35-45 minutes depending on traffic.
8. Weather in Lowell
Cities all over Massachusetts typically have freezing winters, warm summers, and clouds in the sky for most of the year.
Lowell weather follows suit with winters that reach temps between the low teens and low 30s, with as much as 56 inches of snow per year. The summer months heat things up to a more comfortable level with temperatures that vary between the low 80s during the day to the low 60s at night.
Tips for Moving to Lowell
A diverse city full of fun, unique people who love where they live.
Great outdoor activities with wonderful places to eat inside.
Lower cost of living than many other Boston suburbs.
Nice communities that cater to family lifestyles for both primary and secondary age students.
Strong employment opportunities in town with even more close by in Boston.
We've said it before, but we have to say again how much people love living in Lowell. Would you like to join this amazing city and start planning your relocation? Mass Bay Movers provides top-ranked moving services across New England with a major emphasis on the Boston area.
If you'd like to get a free moving estimate, please complete the Request a Quote form today! Or give our Lowell movers a call at (978) 587-3775 to get more information and ask any questions you might have!