Are you planning on moving to Boston and looking for the right neighborhood to call home? Dorchester is famously accessible compared to Boston overall which is known for its affluence and "old money." Its diverse population and size mean you'll find a wide range of neighborhoods for every budget and lifestyle. Dorchester MA offers trendy and historic destinations, a thriving arts community, waterfront amenities, and excellent public transit – not to mention a fun nightlife scene and amazing restaurants.
Once a town of its own founded by Puritans, Dorchester is today known locally as Dot and it's one of the best places to live in Boston for millennials, young professionals, and families. Here's everything you want to know to decide if moving to Dorchester, MA is right for you.
Where Is Dorchester?
Dorchester is a Boston neighborhood covering over six square miles. South of downtown Boston, Dorchester is bordered by the following neighborhoods: South Boston, South End, Roxbury, Jamaica Plain, and Hyde Park. Mattapan, a Boston neighborhood, is historically a section of Dorchester but is often considered a separate neighborhood. Dorchester is bordered by Quincy and Milton to the south. Dorchester Bay, the smallest of the three small bays of the southern Boston Harbor, is the northeast boundary of Dorchester. The Neponset River is the southern boundary of Dorchester and the city of Boston.
The Dorchester zip codes are 02121, 02122, 02124, and 02125.
While living in Dorchester, you will be well served by several public transit options and many walkable neighborhoods. Dorchester is served by the MBTA Red Line, the Fairmount Line (Dorchester Branch) of the MBTA Commuter Rail, and extensive bus service. Some parts are also served by the Mattapan Trolley.
City of Boston Map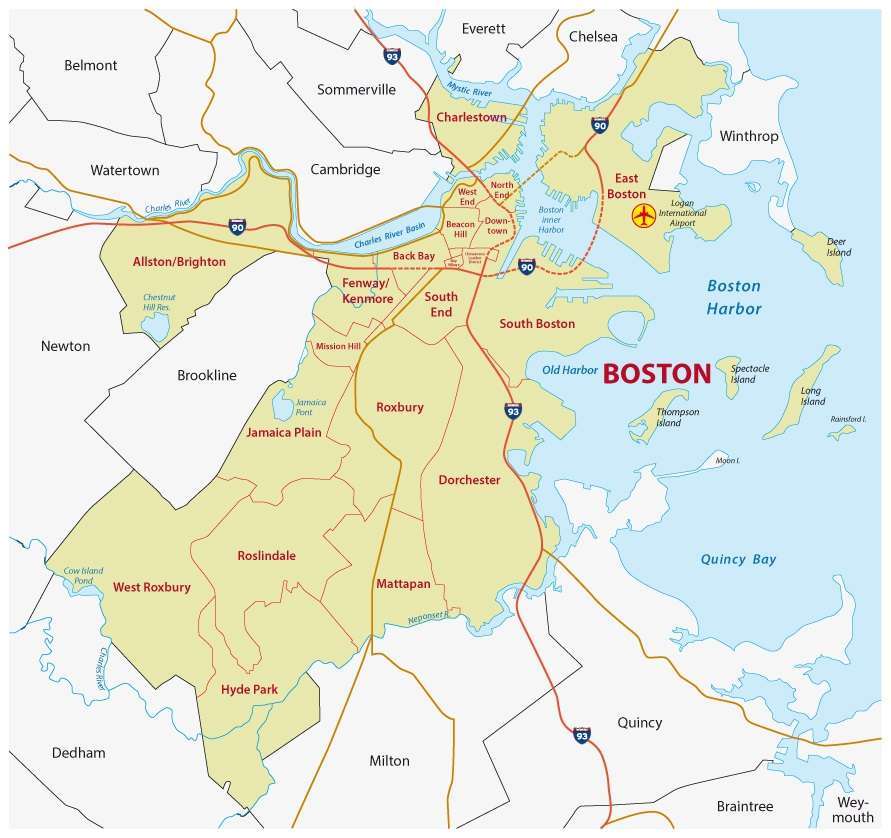 Dorchester Boston Population & Demographics
The population of Dorchester MA is 122,191 according to the 2020 census. The Boston population is almost 676,000; that means almost 1 out of every 5 people in Boston are living in Dorchester!
Dorchester isn't just the largest neighborhood in Boston; it's one of the most diverse. The racial and ethnic composition is 35% Black or African American, 22.4% non-Hispanic white, 20.7% Hispanic, 10.9% Asian, and 11% other races. Since the 2010 census, the Black and African American population in Dorchester has shrunk by 13%, while the Asian population has grown almost 26%, and the Hispanic population has increased by 30%.
Dorchester has more foreign-born residents than any other Boston neighborhood: in 2019, an estimated 43,000 people living in Dorchester Massachusetts were born outside the U.S. 40% of the foreign-born residents are from the Caribbean, with 23% from Asia and 21% from Africa.
Additional Dorchester demographics:
Population density: 20,365 people per square mile
Median age: 34
Sex ratio: 52 females to 48 males over 18
Educational attainment: 26% bachelor's degree or higher (60-80% in most Boston neighborhoods)
Median household income: $49,662 (Boston: $62,021)
History of Dorchester MA
The first Europeans to live in Dorchester were David Thompson and his family who settled on Thompson Island in 1626 four years prior to the Puritan migration wave. The official settlement happened in 1630 when men aboard the Mary and John ship founded the new town of Dorchester. Despite now being a neighborhood of Boston, Dorchester still celebrates its founding on Dorchester Day every year.
Dorchester, Boston is the site of many historic firsts. Dorchester was the site of the country's first Town Meeting on October 8, 1633. Massachusetts still celebrates Town Meeting Day on October 8. In 1639, the first elementary school in the country, the Mater School, was founded in Dorchester. It was in Dorchester that John Hannon, an Irish chocolate maker, imported and refined cocoa beans into chocolate that was first introduced to the colonies in 1765.
Dorchester was a popular retreat for the affluent of Boston during the Victorian era and become a thriving bedroom community once it was connected by streetcar to the city. Dorchester was slowly annexed to Boston from 1804 until 1870 with some parts annexed to the city of Quincy. Throughout the 20th century, Dorchester was a center of activism, first as the site of the first racially integrated neighborhood and home to residents who founded the precursor for the NAACP and during the 1950s as the home of Martin Luther King Jr. and an African American civil rights movement.
Today, Dorchester is one of the most diverse neighborhoods in Boston with close-knit communities and residents who actively participate in community events and improvements.
Things to Do in Dorchester
Dorchester is packed with cultural and entertainment options, not to mention some of the best parks in Boston. From museums and historic performing arts venues to beaches and shopping, you have a look forward to ahead of moving to Dorchester MA!
View this post on Instagram
Major Dorchester Attractions
The John F. Kennedy Presidential Library and Museum is an interesting stop for history buffs, serving not only as the official repository of the Kennedy Administration's original documents and correspondence but also personal effects. Next door is the Edward M. Kennedy Institute for the United States Senate which focuses on the life of Edward Kennedy and the Senate. Another stop for fans of history and art is the Strand Theatre, a restored vaudeville house and educational resource for artists.
The 72-acre Franklin Park Zoo in Dorchester is one of the top attractions in Boston for families with educational programs and hundreds of animals to visit.
Dorchester Shopping, Recreation & Entertainment
There's plenty of shopping in Dorchester, with several major commercial areas. Fields Corner is one of the area's largest business districts with many Vietnamese restaurants and Irish pubs while South Bay Center is home to big box retailers, restaurants, and an AMC Theater with a pedestrian-friendly design.
View this post on Instagram
You'll also find fun things to do in Dorchester for families. Chez Vous Roller Skate Rink has been a Boston staple for more than 80 years with family fun and fast food options. Boston Bowl offers a brewpub, billiards, and bowling until midnight or 1 am. Dorchester even boasts several yacht clubs like Savin Hill Yacht Club.
Dorchester MA Parks & Outdoor Attractions
After moving to Dorchester, Massachusetts, you'll have some of Boston's best parks and beaches at your fingertips. There are several greenways and trails throughout the community including the 2.4-mile Lower Neponset River Trail, the 5-mile Neponset River Greenway along Tetan Beach, and the 38-mile Harborwalk on Dorchester Bay.
Franklin Park, shared by Dorchester, Roxbury, and Jamaica Plain, offers over 485 acres of trails, playing fields, and open space plus the Franklin Park Zoo. It's the largest open space in Boston and part of the Emerald Necklace. The nearby Harambee Park offers 46 acres of sports fields with basketball courts, soccer and lacrosse fields, and a playground. Dorchester Park, the community's namesake park, hosts regular community events like Family Fun Day and the Annual Classic Car Show.
The Neponset River Reservation and the renovated Pope John Paul II Park Reservation offer water views, birdwatching, and nature trails. On the weekends, enjoy easy access to fishing and kayaking right in your neighborhood.
View this post on Instagram
Dorchester Boston is also home to several picturesque beaches along Dorchester Bay. Savin Hill and Malibu Beach is a great place for summer swimming, strolls along the boardwalk, or an afternoon spent at the playground. Tenean Beach is a popular destination for swimming, tennis, basketball, and picnics. It's one of the best dog friendly beaches in Boston! Carson Beach is a sandy public beach on the South Shore between Dorchester and South Boston.
Dorchester Bars & Restaurants
Dorchester, Boston is popular with young professionals and millennials thanks to its fun nightlife. It's home to the Dorchester Brewing Company, a tap room and brewery with a rooftop BBQ restaurant. Boston Winery is a fun stop for live music, wine tastings, and make-your-own wine. At Boston Harbor Distillery, you can sample award-winning spirits in an historic waterfront tasting room.
You'll find many fun Dorchester bars and Irish pubs with a thriving nightlife scene. Some of the best bars in Dorchester, MA include:
View this post on Instagram
From Vietnamese pho and banh mi restaurants, Irish pub fare, West African stews, and Italian restaurants to Trinidadian and Cape Verdean cuisine, Dorchester is home to a diverse culinary scene! Here are some of the best Dorchester restaurants you'll fall in love with.
Enjoy traditional Vietnamese banh mi sandwiches, bubble tea and desserts at this popular take-out restaurant.
Ba Lẹ Restaurant, 1052 Dorchester Ave, Boston, MA 02125 (617) 265-7171
This Zagat-rated restaurant is one of the best Polish restaurants in Boston with comfort food like goulash, pierogi, and potato pancakes.
611 Dorchester Ave, Boston, MA 02127 (617) 269-0110
Cape Verdean cuisine which blends Portuguese and West African flavors. Specializes in katchupa, a spicy stew with linguiça, pork, hominy, beans, and cabbage.
Restaurante Cesaria, 266 Bowdoin St, Boston, MA 02122 (617) 282-1998
This upscale Italian eatery is one of the most popular Dorchester restaurants on the water with gorgeous views, classic Italian cuisine, and a sister winery.
Venezia Restaurant Boston, 20 Ericsson St, Boston, MA 02122 (617) 436-3120
Dorchester Neighborhoods
With its large size and population, Dorchester is home to many sub-neighborhoods or communities. People who grew up in the area may ask what parish you're from instead of neighborhood, a nod to the neighborhood's history as the Dorchester area was once divided by Catholic church parish.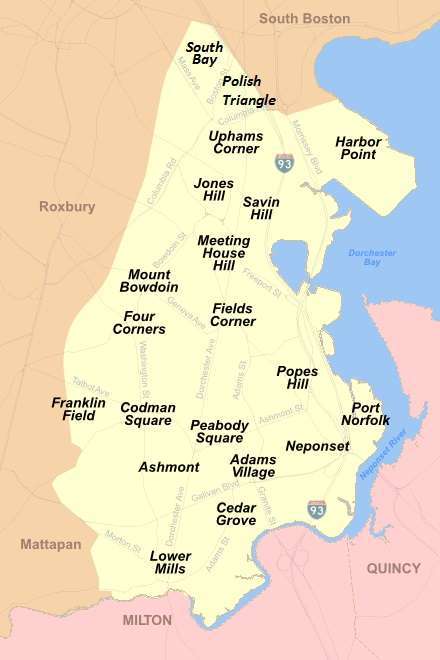 Dorchester is often divided into two large areas: North Dorchester and South Dorchester. North Dorchester is the more urban section with more commercial districts, apartments, and connections to South Boston. South Dorchester is more residential with many long-time residents and neighborhoods that are still likely to be defined by parishes.
There are many smaller districts and communities to explore in Dorchester, each with a unique vibe. Jones Hill and Ashmont are known for their large LGBTQ communities while Fields Corner is home to a large Vietnamese population and many young millennials who appreciate the lower rent and walkability. Ashmont Hill is known for its large Victorian homes. Savin Hill is a beach neighborhood and one of the most desirable Dorchester neighborhoods. The Over the Bridge Savin Hill area is a historic, green neighborhood where homes tend to sell very quickly.
The Harbor Point area of Dorchester, home to the UMass Boston campus, is a major employment center. It's popular with students, young professionals, and educators with many waterfront apartments.
View this post on Instagram
Bowdoin-Geneva and Four Corners are among the most high-crime areas of Boston, although that's changing and both are home to thousands of residents who love their neighborhoods.
Dorchester Boston Schools
After moving to Dorchester Mass, you will be served by the Boston Public Schools (BPS) district. The neighborhood is home to several of the best high schools in Boston including:
Jeremiah E. Burke High School (9-12), ranked #9 in Boston
Boston Arts Academy  (9-12), a collaboration between BPS and the Professional Arts Consortium
Boston International High School (9-12), designed to deserve a diverse population and English Language Learners with a college preparatory curriculum
TechBoston Academy (6-12), an award-winning college prep middle and high school with a technology focus named one of the Best High Schools by Newsweek and winner of the Best of Boston Education Award
Edward M. Kennedy Academy for Health Careers (11-12)
Community Academy of Science and Health (CASH), a science and health careers-focused high school
You can use the Discover BPS tool to explore your school options based on your new address.
Dorchester, Massachusetts is also home to the University of Massachusetts Boston. UMass Boston is the city's only public research university and America's third most diverse university.
Is Dorchester Safe? | Dorchester MA Crime Rate
The Dorchester crime rate is up to 36% higher than Boston on average, although Boston is one of the safest big cities in the United States. Keep in mind Dorchester is home to over 120,000 people – most areas are very safe, but there are some Dorchester areas known for high violent crime rates. A large share of Dorchester crime is concentrated in the Bowdoin/Geneva district or the 68-block section, one of the most violent neighborhoods in Boston.
Just north of the Bowdoin/Geneva district is Jones Hill, one of the most desirable and safe areas of Dorchester, and to the west is UMass, a safe waterfront community.
You can learn more about crime in Boston here.
Dorchester Boston Apartments & Homes for Sale
If you're planning to buy a house after moving to Dorchester, be prepared to pay more than the Boston median – although you'll get more for your money than most neighborhoods! Dorchester homes for sale feature actual lawns and historic late 19th century and early 20th century architecture, especially in South Dorchester. You'll find more condos in North Dorchester.
View this post on Instagram
The median home price in Dorchester is $744,500 or $431 per square foot, up 18% year-over-year. The median price of condos in Dorchester is $555,000. By comparison, the Boston median home price is $710,000 but a much higher $570 per square foot.
Planning to rent after moving to Dorchester? The average rent is $3,467 compared to the overall average of $3,894 for Boston according to RentCafe.
There are dozens of Dorchester Boston apartments to choose from. You'll find studio apartments in Dorchester starting at $2,100. Harbor Point on the Bay Apartments offers 1- to 3-bedroom waterfront apartments on Dorchester Bay and the Harborwalk and walking distance to Carson Beach. Peninsula Apartments and Hub25 apartments are also nearby and close to UMass Boston.
View this post on Instagram
Interested in living on the Neponset River? Baker Chocolate Factory has studio apartments starting at $2,100 – it's one of the most affordable places to rent while living in Dorchester and walking distance to shopping and restaurants in the historic Lower Mills area. Central air, heat, and hot water are even included.
The Andi is one of the latest additions to the Dorchester Boston rental market. Located in South Bay Center, the first mixed-use development in Dorchester, the Andi has studio to three-bedroom apartments with coworking spaces, an indoor pet wash, a pool with cabanas, and in-unit washers and dryers.
Ready for Dorchester living at its finest? If moving to Dorchester is in your future, give us a call at Mass Bay Movers for a free, personalized moving estimate from our five-star movers in Dorchester!