The beautiful and inviting city of Boston, MA is home to a population of 658,279 residents. It is located along the east coast bordered by Massachusetts Bay and the Atlantic Ocean, while also pulling in cold temperatures from the north. Its location on the Atlantic makes it prone to infamous Nor'easter storms.
Known for its four distinct seasons, Boston is part of what's known as a transitional zone between multiple climate types. The Boston area can either be designated as a humid subtropical climate or a humid continental climate.
Located along the Atlantic coast, Boston experiences cool sea breezes for most of the year.
Unlike the weather, which focuses on daily events, details about the climate in Boston will give you a more general view of what to expect from the area based on the time of year.
Boston Seasons
Seasons in Boston see both sunshine and snowfall at various times. Residents living in Boston need to be prepared for bone-chilling winters and warm, mild summers.
Spring Weather in Boston
While this time of year generally welcomes new life and vegetation growth, spring in Boston starts in March and remains fairly cold to start off. Boston spring temperatures vary between lows in the 30s during March and reach average highs in the upper 60s in May.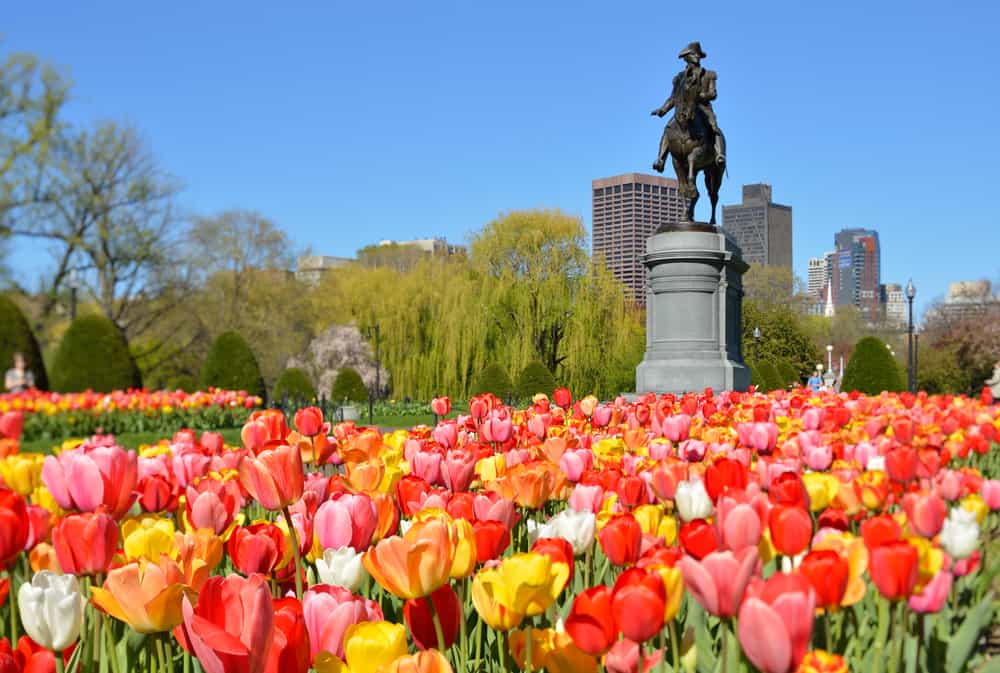 There is often still snow to be found in the month of March in Boston with about 8.5 inches on average. It tends to thaw out though as April rolls around when you'll begin to see new flowers and plants start to bloom. Boston spring weather brings about 10.69 inches of rain total, with the highest amount coming in the month of March (3.85 inches).
Summer Weather in Boston
Summer in Boston starts in June and progresses through most of August. Boston summer temperatures range from lows in the upper 50s during the month of June and highs in the mid-80s during July and August. This is when residents get to head over to Fenway Park and catch a Boston Red Sox game.
There is a decent amount of rain during summertime in Boston as well, bringing as much as 3.37 inches during the month of August.
Fall Weather in Boston
If you're wondering when fall starts in Boston, it begins in September and goes through November. Boston fall temperatures cool down quickly with highs in the mid-70s during September dropping to lows in the upper 30s during the month of November. It's a pleasant time to put on a light jacket and go for a stroll through one of the local city parks.
While snow can begin during October or November, they typically only bring a total average of about 0.4 inches between the two of them. But November in Boston is also known for having the most rain during the year with an average of 3.98 inches annually.
Winter Weather in Boston
Winter in Boston goes from December to February. Boston winter temperatures reach their lowest point with the coldest time of year in January. Temperatures during this time of year see an average between the low 20s and the low 40s.
Boston snow becomes most common in the months of January with 15.8 inches on average and February with 20.5 inches on average. Winter is when you'll see the most extreme weather in Boston during the year. But it is also a great time to enjoy activities such as ice skating on the Boston Common frog pond.
Boston Monthly Weather
Weather in January
January is the coldest month of the year in Boston with temperatures between 22°F and 37°F with an average snowfall of 15.38 inches on average per year.
Weather in February
The month of February in Boston stays cold with temps between 24°F and 39°F along with the most snowfall of the year, reaching an average of 20.5 inches annually.
Weather in March
March sees less snow but still hits freezing temperatures between average lows of 31°F and average highs of 46°F.
Weather in April
The mercury rises gradually starting in April with average temperatures between 41°F and 57°F.
Weather in May
May brings another slight jump on the thermometer as temps rise to averages ranging from the mid-50s to about 67°F.
Weather in June
June is when many locals would say things get "warm" as Boston temperatures reach an average low of 59°F and an average high of 77°F.
Weather in July
As the hottest month in Boston, July reaches its peak temperatures with highs averaging about 82°F and lows around 66°F.
Weather in August
August stays warm as temps hover between 65°F and 81°F on average. This month also has the most days of sunshine in Boston with an average of 20.
Weather in September
You'll see temperatures begin to dip in Boston during September as they go down to an average low of 58°F and an average high of 73°F.
Weather in October
October has another drop in the temperature as the average lowers to between 47°F and 62°F.
Weather in November
The wettest month in Boston is November with about 3.98 inches of rain per year. Boston temperatures in November are between 38°F and 52°F on average.
Weather in December
Things get even colder in Boston during December when temperatures reach average lows of 28°F and average highs of 42°F.
Annual Climate in Boston
Number of sunny days in Boston:

On average, Boston has about 200 days of sunshine per year.

Annual rainfall in Boston:

The city of Boston has about 47 inches of annual rain, which is slightly higher than the United States average of 38 inches per year.

Annual snowfall in Boston:

There are about 48 inches of yearly snowfall in Boston, about 10 inches more than the national average.
Extreme Weather in Boston Climate
The climate in Boston is often recognized for its extreme winter weather including freezing temperatures, large amounts of snow, and severe blizzards. Rainy seasons can also bring occasional thunderstorms. Summers rarely reach temperatures high enough to cause concerns on the heat index.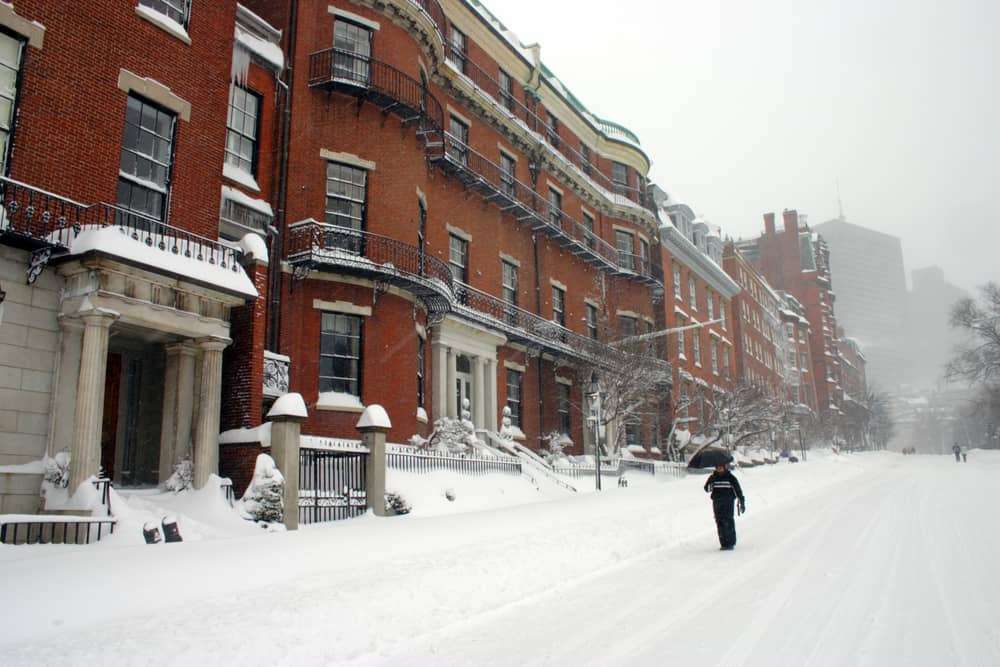 Boston Weather Extremes
Coldest month:

January is the coldest month in Boston with an average low of 22°F.

Hottest month:

July is the hottest month in Boston with an average high of 82°F.

Wettest month:

November is the wettest month in Boston with an average rainfall of 3.98 inches.

Snowiest month:

February is the snowiest month in Boston with an average snowfall of 20.5 inches.

Most humid month:

September is the most humid month in Boston with an average of 70% humidity.

Sunniest month:

August is the sunniest month in Boston with an average of 20 days.

Boston record high temperature:

The highest recorded temperature in Boston is 104°F on July 4, 1911.

Boston record low temperature:

The lowest recorded temperature in Boston is -18°F on February 9, 1934.
Best Time to Visit Boston
You can determine the best time of year to visit Boston based on the type of experience you want to have. Springtime is typically considered the most popular due to its cool, comfortable temperatures and limited snow. You'll still want to keep an umbrella handy in case it rains but this is a great time of year to enjoy the climate in Boston.
The fall season is another good time if you don't mind having to bundle up a bit more for the cooler Boston weather. Leaves begin to change and you might catch a small glimpse of the first snowfall of the year.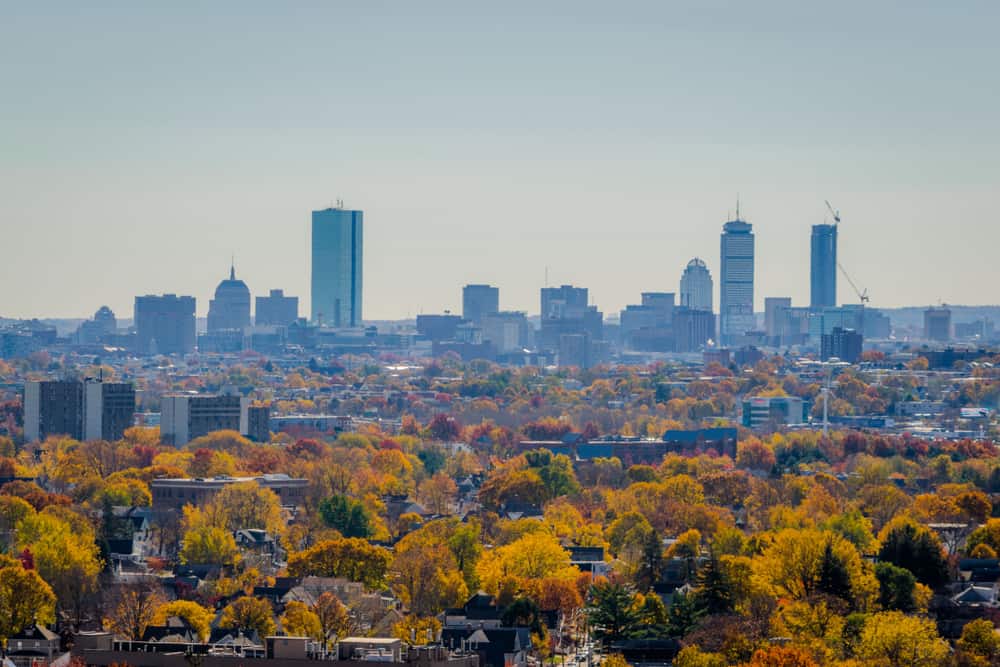 Depending on where you're from and what you're used to, Boston summers are also enjoyable. They tend to have high temperatures that almost never reach the 90s, keeping the city cool and comfortable for both visitors and local residents.
On the other hand, the Boston climate during winter is usually one people try to avoid. The freezing temperatures and snowfall often make this time of year less bearable.
Researching the Boston Climate Before Moving Here?
If you're trying to see what the climate in Boston is like prior to an upcoming relocation, we'd love to help you! Mass Bay Movers is a professional Boston moving company, ready to assist the transition. Give us a call today at (978) 587-3775 or complete the Request a Quote form above to get a free Boston moving estimate!