As a small Massachusetts city, the area of Walpole has a unique history and offers a calm, quiet lifestyle for its local residents. Named after Great Britain's first prime minister, Sir Robert Walpole, the town is located to the southwest of Boston near cities like Medfield, Norwood, and Foxborough.
Walpole was incorporated back in 1724 and played a significant role in the Revolutionary War by sending over 150 men to fight in the Battle of Lexington and Concord. Since then, it has grown slowly but once people arrive, they tend to stick around. Anyone moving to Walpole will greatly benefit from this all-inclusive guide to living in this small town and all it has to offer.
1. People of Walpole, MA – Population & Demographics
The city of Walpole is currently home to a population of 24,070 people with a median age of about 42 years old. It has a fairly even gender split as the numbers add up to around 49.77% female and 50.23% male. A closer look at additional Walpole demographics shows more than 90% of residents are Caucasian, while about 6% are of Hispanic or Latino descent, and slightly less than 3% have an Asian background.
Even though it's a small city, people living in Walpole have plenty of local activities and convenient amenities to choose from that make for a nice, comfortable lifestyle.
2. Things to Do & Restaurants in Walpole, MA
While the city is a bit closer to the outer edge of the Boston metropolitan area, there are still lots of great things to do around Walpole. The local Walpole Public Library gives both children and adults the chance to join book groups, attend story-related events, and even get special deals to other local attractions nearby.
And another great Walpole attraction is the Francis William Bird Park. It is a local 89-acre green space with beautiful walking paths, making it one of the best places to hike in Walpole. Their website also maintains a regularly updated list of events that take place around the park.
View this post on Instagram

Walpole Public Library, 143 School St, Walpole, MA 02081
View this post on Instagram

Francis William Bird Park, 135 Polley Ln, East Walpole, MA 02032
Looking for the top restaurants in Walpole? Start with a visit to Farmer in the Dell, a homey cafe that offers everything from salads and sandwiches to pulled pork and roasted chicken, followed closely by delicious baked goods for dessert. The next time you want to go out to eat in Walpole with friends, head over to the Irish pub known as Finnegan's Wake Bar & Restaurant to enjoy some shepherd's pie, liver & onions, mac & cheese, and a large variety of drink choices.
View this post on Instagram

Farmer in the Dell, 935 East St, Walpole, MA 02081
Finnegan's Wake Bar & Restaurant
View this post on Instagram

Finnegan's Wake Bar & Restaurant, 685 Main St, Walpole, MA 02081
3. Walpole, MA Cost of Living
Apart from slightly lower local utility prices, the cost of living in Walpole is typically higher than the average across Massachusetts. Everything from groceries and healthcare to transportation around town tend to have rates that are above state numbers. Most often, the biggest impact comes from the local housing market costs.
If you're interested in purchasing a house in the area, you'll see the average price of a home in Walpole is about $502,500. These averages have seen little to no change recently along with less than half a percent increase expected to hit those prices in the next 12 months. A look at Walpole, MA homes for sale will give you a great idea of whether there are any locations out there that will fit your budget.
With a little more than 25% of people living in Walpole choosing to rent their homes and apartments, you'll also find a good assortment of options for this as well. The average price of rent in Walpole varies between $1,792 for a one-bedroom apartment up to about $2,787 for a four-bedroom. This spread of pricing has seen minor fluctuations both up and down over the past decade.
4. Neighborhoods in Walpole, MA
Spanning a tiny area that covers less than 3 square miles, the city of Walpole is basically a small neighborhood on its own. But it is still broken up into a few smaller communities including East Walpole, South Walpole, and Central Walpole. You'll also find high-scale executive homes on the northern side of town in The Estates at Walpole.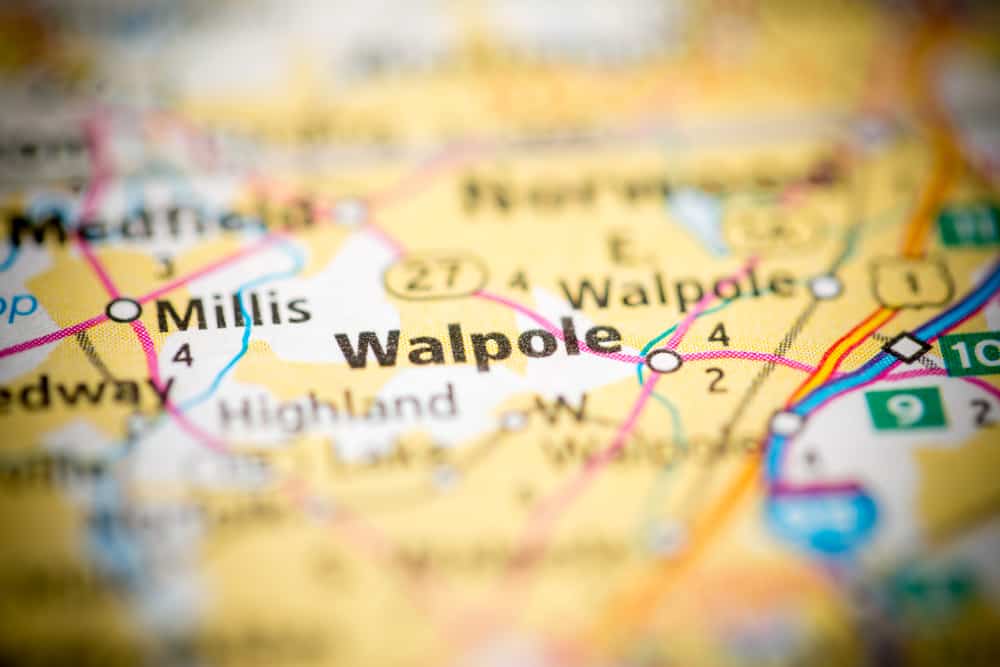 Walpole neighborhoods are located in Norfolk County and have a single zip code of 02081. Getting a new local phone number will give you a Walpole area code of either 781 or 339.
Do you need to make sure there are good places to shop in and around Walpole? Taking a quick drive around town, you'll pass by locations like Big Y World Class Market, Trader Joes, Barnes & Noble, the local Walmart, and The Walpole Mall.
5. Walpole School System
If you're moving to Walpole with children, they will be joining about 1,100 other school-age students in the Walpole School District, making up about 18% of the city's population. Offering strong education programs that follow Massachusetts standards, some of the top Walpole schools include Elm Street School, Bird Middle School, Eleanor N. Johnson Middle School, Norfolk County Agricultural High, and Walpole High.
There are also a handful of places near Walpole where students can go to get their secondary education. The highly-rated Dean College is less than 10 miles away in Franklin.
While Franklin W. Olin College of Engineering is down the road in Needham and Stoneham College is about 15 miles away in Easton.
6. Jobs in Walpole
With a median household income of $77,961 in the city, Walpole rests among the average salary within the Massachusetts job market. Some of the largest employers where you may find good Walpole jobs are with the industrial manufacturing company of Hollingsworth & Vose Co or at the Rolls Royce Naval & Marine manufacturing plant.
If you're willing to commute the 27 miles from Walpole, MA to Boston there are plenty of additional job opportunities closer to the big city.
7. Northeast Coast Weather in Walpole
Outdoor activities at fun destinations like Francis William Bird Park, the Adams Farm, and the Walpole Recreation Center offer a great variety of options depending on current Walpole weather. In an area that sees winters that bring upward of 53 inches of annual snow, you'll want to be readily prepared with plenty of jackets, beanies, and snow boots.
During these colder months, you can expect weather in Walpole to fluctuate between the upper teens at night and the mid-30s during the day. While summertime brings the chance for people living in Walpole to thaw out with warmer temperatures between the 60s and mid-80s.
Tips for Moving to Walpole, MA
Join a small community of good people living in this area.
Find more than enough options for places to eat and things to do in Walpole.
Expect a higher cost of living and plan ahead to make sure it's within your budget.
Small neighborhoods with a variety of living options.
Stock up on winter gear for the cold months of the year.
Before you take this big step, make sure you find the best moving company in Walpole to help with your transition. Get in touch with Mass Bay Movers today by calling (978) 587-3775 and see all the ways we can serve you!