As you prepare for your big move, there will be countless items to sort through, give away, or donate. While some of these items can be easily dropped off at a thrift store, furniture is difficult to move around. By using a Boston furniture donation pickup service, you can simplify your move and quickly get rid of unwanted items.
If you have pieces that are still in good condition, you may be able to use free furniture pickup options since many second-hand shops and charities will pick up the furniture pieces for you. All you have to do is reach out online or via the phone to schedule a furniture pickup.
Knowing where to donate furniture will make your move a lot easier, but will also help out people in need who can't afford to buy furniture brand new. Best of all, free pickup options mean you don't have to haul around your cumbersome, bulky items.
Different charities, non-profit organizations, and thrift stores will have varying rules so it's important to ensure you pay attention to the available pickup times and types of items they will accept. With a bit of foresight, you can make sure that moving to Boston is as simple and efficient as possible.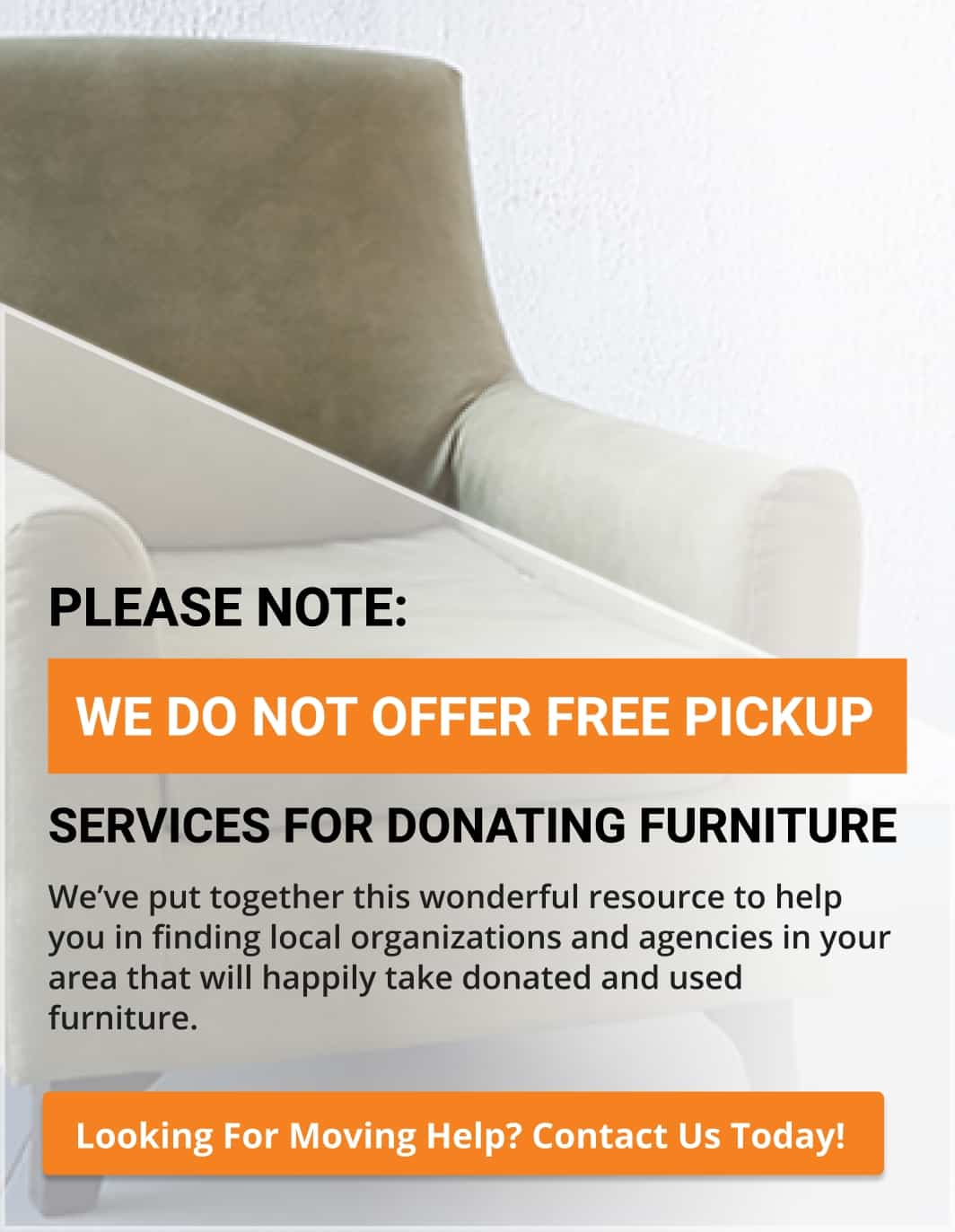 Things to Remember Before You Donate
When you schedule a Boston furniture donation pickup, you can save money on both moving expenses and on your taxes. The Internal Revenue Service (IRS) will let you write off the fair market value of the furniture on your taxes. You can ask each charity to give you a receipt for your donation which can be used on your taxes.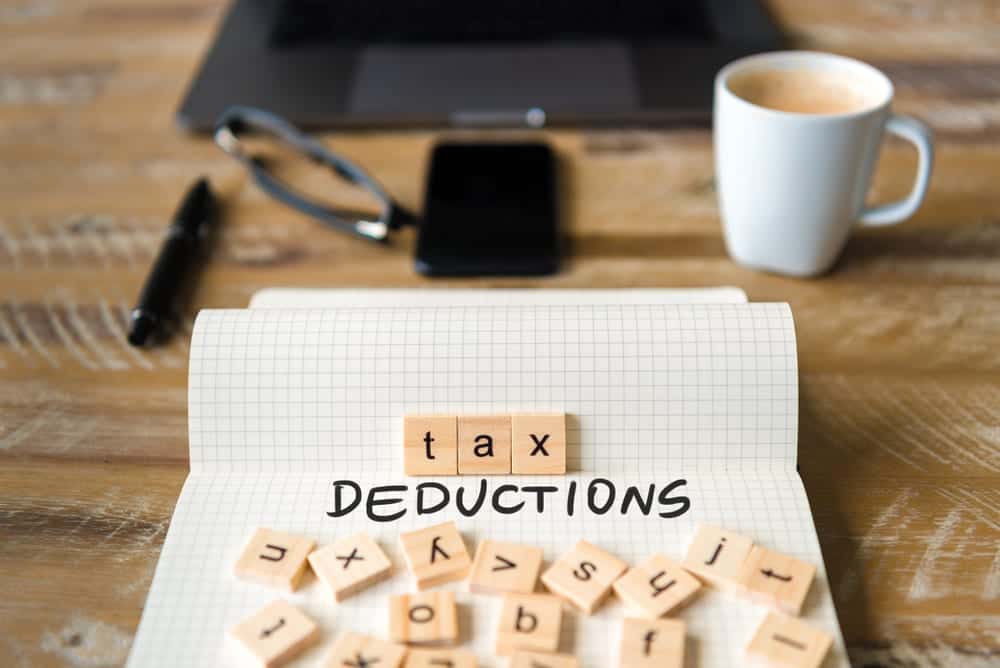 Keep in mind, you can only deduct up to 50% of your adjusted gross income for the year in charitable donations. To qualify as a deduction, the furniture must be in good condition. Your donation also has to go to a charitable organization and not a for-profit group if you want the deduction.
You can donate your items before, during, or after your move. Just remember to call the donation company as soon as possible since some of them require you to make an appointment several days ahead of time. Let's take a look at a few of the best organizations you can donate to in the area.
The Salvation Army
One of the leading places to go for Boston free furniture pickup is the Salvation Army. In just the last year, more than 10 million people have donated to their cause. Because this organization is a charity, you will be qualified to get a tax deduction for your donations.
Through the donations, the Salvation Army is able to fund their Adult Rehabilitation Centers, which help people who suffer from substance abuse to transform their lives. Since the organization receives so many calls, pickup appointments normally have to be scheduled about 7 to 14 days ahead of time.
To schedule a free pickup, you'll need to call them at 1-800-728-7825. You can also use this number if you have questions about appointment availability or details regarding what you can donate.
Salvation Army, 1500 Washington St, Boston, MA, USA, 800-728-7825
Society of St. Vincent de Paul
With an origin story dating back to the 1830s, the Society of St. Vincent de Paul as been helping those in need for nearly 200 years. Running an organization based on gospel values, they offer emergency financial aid, disaster relief, and food pantries to anyone who may be struggling.
They accept a variety of donations in the form of cash, cars, clothing, furniture, and more. To schedule a furniture pickup, you can give them a call at 1-800-675-2882, during their business hours.
Society of St. Vincent de Paul, 11 Market Square, Lynn, MA, USA, 800-675-2882
Habitat for Humanity ReStore
The ReStore helps transform old items and then gives them to new homes. Afterward, Habitat for Humanity uses all of the sales revenue to help create homes for people who need affordable housing. Volunteers use the organization's funds to build affordable homes and improve current homes for people around the world.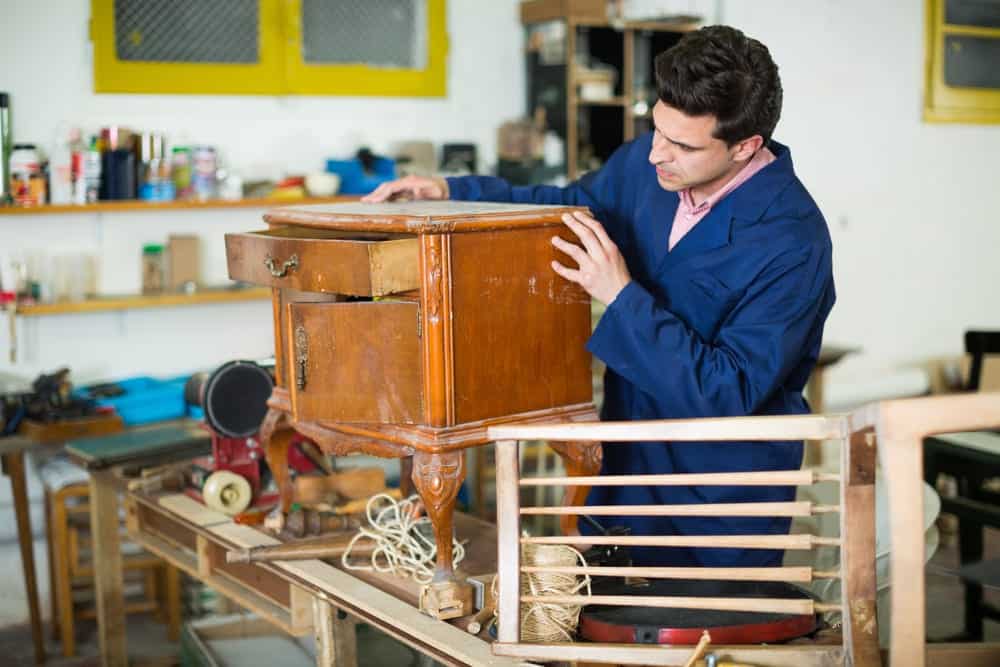 To raise money for its mission, Habitat for Humanity operates ReStores throughout Massachusetts. The ReStore offers free furniture pickup to people who want to donate to the charity. The furniture is sold to fund the charity, help the community, and provide for people in need.
You can easily drop off your furniture, appliances, or business materials between Tuesday and Saturday. Or to have your furniture donation picked up, call Habitat for Humanity's ReStore at 617-327-1170. You can also set up an appointment by emailing the organization at [email protected] and requesting available times.
Habitat for Humanity ReStore, 240 Commercial Street, Boston, MA, USA, 617-327-1170
Boomerangs
Another option for free Boston furniture donation pickup is Boomerangs. This organization is run by the AIDS Action Committee of Massachusetts. Boomerangs is essentially a group of thrift stores in areas like South End, West Roxbury, Jamaica Plain, and Central Square.
View this post on Instagram
You can easily help out Boomerangs' charitable mission while discovering where to donate furniture within Boston. Simply go to Boomerangs' website and click on the button at the bottom of the page to schedule your pickup. Make sure to plan ahead because appointments must be scheduled in advance.
If you want Boomerangs to pick up your furniture, you need to have at least two items to donate and they have to be located on the first or second floor of a building. Anything above the second floor needs to be easily accessible by an elevator. In addition, most furniture appointments are scheduled for three to four weeks in advance, so make sure to call a few weeks ahead of when you want to donate furniture.
Boomerangs, 563 Massachusetts Ave, Cambridge, MA, USA, 617-758-6128
Goodwill
Goodwill is one of the most recognizable nonprofit organizations working to help the community and their employees. They provide job training to out of work individuals and support the community through employee placement. They also offer community-focused programs and education classes for children.
View this post on Instagram
If there is any junk or other items that Goodwill cannot accept, the hauling company will still take it away as a part of the fee. The entire donation is tax deductible as usual. You simply have to go to the Goodwill website to get your tax receipt.
To schedule a pickup, you can call 617-445-1010. If you call them, be sure to specify that you want to use their pickup service.
Once you have arranged your pickup, a team will show up at your address and give you an estimate for the cost of removing your items. If this estimate works for your price range, they will pick everything up the same day.
Morgan Memorial Goodwill Industries, 1010 Harrison Ave, Boston, MA, USA, 617-541-1270
Donation Town
If you're looking for additional ways to donate your furniture and other household items, a visit to the Donation Town website is a great place to start. Their directory offers a large list of local charities, allowing you to find a cause that interests you. All you need to do is enter your zip code and they'll provide you with access to locations all around the Boston area.
Take Advantage of Furniture Pickup Services
Whether you are moving to Boston or just want to declutter your home, finding the right place to donate furniture will be tremendously helpful. Avoid wasting money at the dump and further polluting the environment by donating to one of these charitable causes instead.
By donating furniture, you can ensure your old items are put to good use while receiving a tax benefit at the same time. When the local charity sells the furniture, the money will go toward a good cause, having a positive impact on the life of the new owner and their family.
Are you looking for help with your upcoming move? Whether you plan on donating your furniture before or after the transition is complete, the Mass Bay Movers team has the resources to do all the heavy lifting for you. Give us a call today at (978) 587-3775 to learn more about our services and to get a free quote!
Are you looking for an agency to do a pick up of your donated furniture? Please reach out to one of the agencies mentioned above. Do not call Mass Bay  Moving.
If you are also relocating and need the most trusted moving company in Orange County, do not hesitate to give Mass Bay Moving, call!