Located in Middlesex County, Massachusetts in the MetroWest area of Greater Boston about halfway between Boston and Worcester, Framingham is a beautiful and historic city home to dozens of public parks, athletic fields, and cultural attractions. The nickname of Framingham was once "the Largest Town in the Country" until a vote to become a city was approved in 2017. What is Framingham known for? Its conservation land and outdoor recreation, including the Garden in the Woods, public beaches, and Edward F. Loring Skating Arena. Living in Framingham has plenty to offer, including great local schools and colleges, a short drive to nearby Boston, and plenty of jobs.
Are you trying to decide if moving to Framingham, MA is in your future? This COMPLETE guide will cover everything you need to know, including the Framingham cost of living, fun things to do in the city, the jobs market, and more.
Framingham, MA Population & Demographics
The population of Framingham is 71,000 and it's been very steadily rising over the last two decades, in large part thanks to an influx of immigrants. Framingham has a median household income of $84,000, higher than its neighbor, Boston, and well above the national median of $63,000.
Curious about the people living in Framingham? It's one of the most diverse cities in the entire state! The racial and ethnic composition of Framingham is 66% white, 16% Hispanic (up 26% between 2000 and 2010), 8% Asian (up 23%), 6% black, and 3% two or more races. While 14% of U.S. residents are foreign-born, 27% of people in Framingham were born outside of the country. Framingham has one of the country's largest concentrations of Brazilian immigrants with other large groups including Chinese, Filipinos, Japanese, Korean, Vietnamese, Salvadorans, Dominicans, Guatemalans, and Puerto Ricans, the last of whom began settling in the community in the 1930s.
View this post on Instagram
What Is the Cost of Living in Framingham?
When planning on relocating to Framingham, MA, you're probably curious: what is the average cost of living in Framingham? As you may expect, the Framingham cost of living is high as part of Metro Boston — one of the most expensive places in the U.S.
Here are some prices for common expenses in Framingham:
Movie ticket: $13 adult, $10 child
Average electricity rate: 14.91¢/kWh (25% higher than the national average)
Gallon of milk: $5
Dozen eggs: $2.19
The Framingham-Natick metro area is 29th in the country for high grocery prices.
Housing costs are a great way to assess a city's cost of living. The average rent in Framingham, MA is $1,550 for a 1-bedroom apartment. If you're thinking about buying a house after moving to Framingham, the average home price is $371,000 — far above the median U.S. home listing of $227,000. Start your search online for Framingham, MA homes for sale to get an idea of what you can expect.
Fun Things to Do in Framingham, MA & Best Restaurants
Curious about the best things to do in Framingham, MA? It may not be a large city, but Framingham has plenty to offer residents. Here are just some of the neat attractions and top-rated restaurants you'll enjoy while living in Framingham.
Catch the latest film on the big screen at Framingham's AMC Dine-in. Enjoy the complete movie-going experience with food and drinks delivered right to your comfy reclining seat.
AMC Dine-in Framingham 16, 22 Flutie Pass, Framingham, MA 01701 (508) 875-6151
This 45-acre wooded retreat is sure to be one of your favorite weekend getaways and it's one of the best things to do in Framingham with kids. Explore New England's largest landscaped collection of beautiful native wildflowers, including plants chosen for their rarity and beautiful displays.
Garden in the Woods, 180 Hemenway Road, Framingham, MA 01701 (508) 877-7630
Stop by one of Framingham's best chain restaurants for margaritas and tasty enchiladas. Margaritas also offers weekly specials like happy hour, late night discounts, and discounts for people in the service, hospitality, and healthcare industries.
Margaritas Mexican Restaurant, 725 Cochituate Rd, Framingham, MA 01701 (508) 309-7348
Grab a tasty craft cocktail at Bourbon's, one of Framingham's best restaurants. Bourbon's features a fun pub menu with plenty of shareables — perfect for hanging out with new friends. Be sure to try the scallops and chorizo!
Bourbon's Kitchen & Cocktails, 47 Beacon St, Framingham, MA 01701 (508) 861-7997
Still not enough things to do in the city? Framingham, MA also offers convenient shopping including Whole Foods, Lifetime Fitness, Target, Best Buy, and Framingham Mall Shopping Center.
Framingham, MA Jobs
Relocating to Framingham for a job or employment opportunities? The city boasts a strong and growing economy centered around office, medical, education, biotech, and retail. Most jobs in Framingham come from its many office and retail complexes as the region's primary shopping destination. Framingham is expected to have job growth of more than 41% over the next ten years — well above the U.S. average!
South Framingham is the city's commercial center with many retail shops and restaurants owned by immigrants from Brazil, India, and Asia. West Framingham has two large industrial parks and office complexes that are the world headquarters for companies like Staples and Bose. The Framingham Centre Common Historic District is home to Framingham State University, a major regional employer. Many Framingham jobs are also based within the Golden Circle, one of New England's largest shopping districts which also has large office complexes with the world headquarters for TJX.
Some of the top employers in Framingham include:
Bose Corporation
TJX
Staples
Metrowest Medical Center
Framingham State University
Planning to commute to Boston for work? Here's how to get from Framingham, MA to Boston which is 25 miles away.
Best Framingham Neighborhoods to Explore
Where will you live after moving to Framingham? The city offers several historic neighborhoods, each with a little something different to offer. Whether you're looking for multi-family housing or family-friendly neighborhoods in Framingham, here are some of the best choices.
Saxonville, located in the city's north end, is an artistic residential community close to Framingham High School and Shoppers World. Saxonville is one of the best Framingham neighborhoods for kids with seven parks to enjoy, including Lake Cochituate Beaches, Saxonville Beach, and three playgrounds.
Nobscot in the northwest end of the city is another popular neighborhood. Framed by Saxonville to the west, the Massachusetts Turnpike to the south, the Garden in the Woods, and Callahan State Park, Nobscot is home to quiet farms, large estates, and plenty of natural beauty. A new mixed-use project is also planned for this Framingham neighborhood with 158 one- to three-bedroom units and shopping.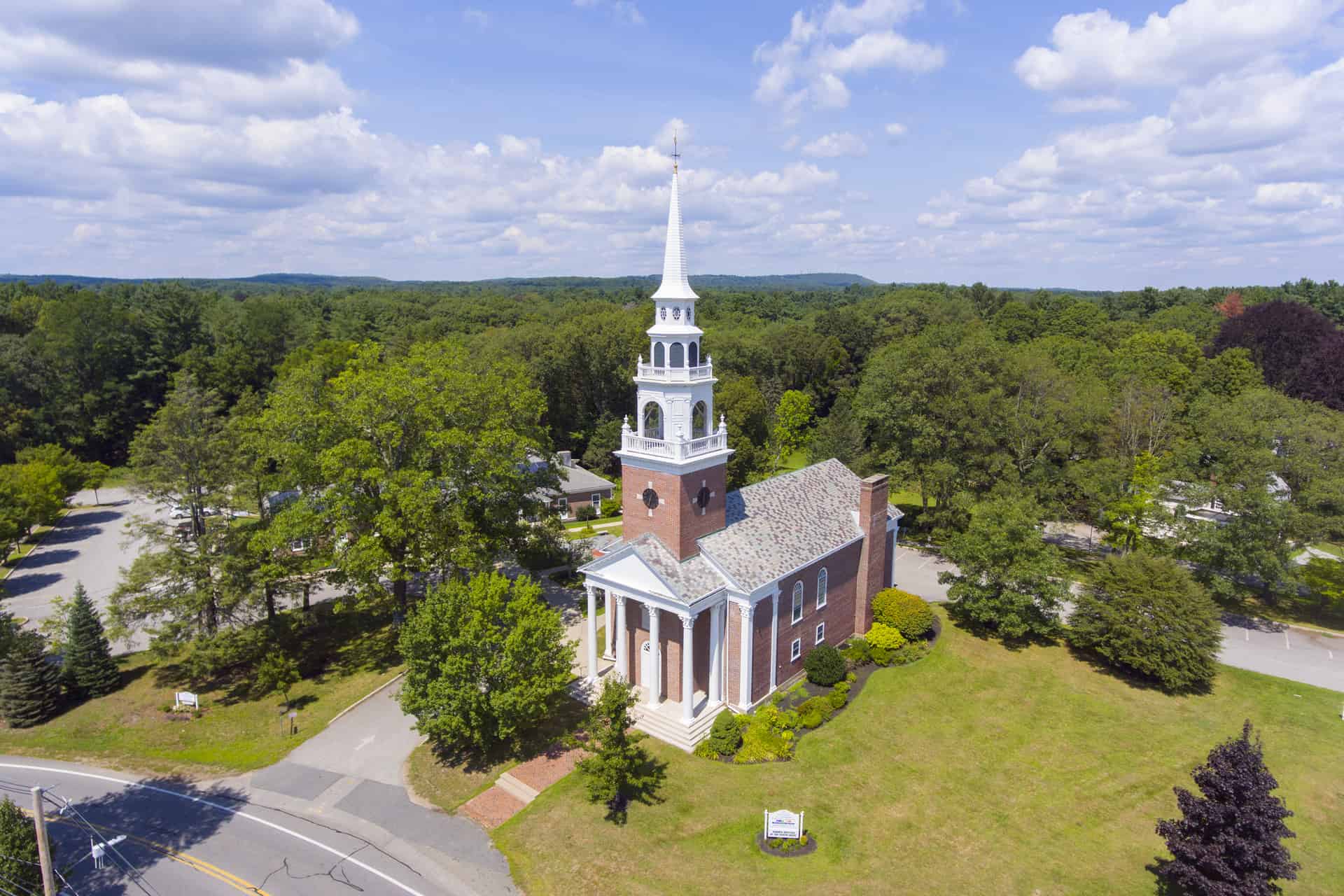 Planning to rent while living in Framingham, MA? Most condos and apartment complexes are in West Framingham along Route 9. You'll find plenty of support services, shopping, and dining in the area including pubs, a supermarket, and a large daycare.
Want to see which of these Framingham neighborhoods will best fit your budget? Start your search for Framingham, MA homes for sale to explore possibilities.
Framingham Weather to Expect
Living in Framingham, you'll get about 200 sunny days a year and 120 days with some type of precipitation. Be prepared for plenty of Massachusetts snow and rain: Framingham gets 49″ of rain per year (U.S. average is 38 inches) and 47″ of snow — well above the U.S. average of 28 inches. While winters can be very rough, especially if you're moving to Framingham from a warm area, June, July, and August are extremely pleasant. Summers are typically mild without much humidity.
Want to get through your first Framingham winter like a native? Invest in a quality winter coat, waterproof boots, and warm gloves. If you're bringing pets, make sure they're equipped with booties and a sweater too!
Framingham Schools & Colleges
The city is served by the Framingham Public School District with 14 public schools. There are also several private schools to choose from, including a Jewish day school, Marian High School, Sudbury Valley School, three parochial schools, and specialty schools.
As you explore higher education in Framingham, you'll find several top-rated colleges and universities. There are three colleges in the city, including the highly regarded Framingham State University, and more than 60 colleges, universities, and technical schools such as:
Wellesley College (7 miles)
Babson College (9 miles)
Olin College of Engineering (9 miles)
Brandeis University (10 miles)
Lasell College (10 miles)
Bentley University (12 miles)
Moving to Framingham Tips
As you can see, Framingham has lots to offer. These tips will help you decide if Framingham is the right place for you to move.
Most neighborhoods in Framingham offer a good mix of amenities and natural beauty
Find plentiful jobs in office and retail settings or commute to Boston for jobs in social services and health care
Be prepared for rain and snow!
Enjoy a diverse range of restaurants, including many types of ethnic food
Explore the many things to do in Framingham with dozens of area parks and cultural attractions
Is Framingham calling to you with its strong economy, stunning natural beauty, and amazing diversity? If you've decided to move to Framingham, MA, call the experienced Framingham movers at Mass Bay Movers for the ultimate stress-free relocation. Call us today at 978-587-3775 for a free custom moving quote!