Are you ready to find out if the gorgeous Boston neighborhood of Charlestown is a good place to live?
Recognized by a handful of nicknames such as Chuck Town, C-Town, and simply The Town, residents living in Charlestown enjoy many perks when it comes to this popular community. Known for being the home of numerous American Revolution landmarks as well as its place along the northern end of Boston's Freedom Trail, you'll quickly find out why locals love it here.
Having been the birthplace of individuals ranging from NFL Hall of Famer Howie Long to Samuel Morse, the inventor of Morse Code, the area is packed with history and notable events. As you decide whether moving to Charlestown is right for you, learn more about what it has to offer and why it's so admired.
History of Charlestown
Originally known by the name of Mishawum by local Massachusetts Indians, the Charlestown neighborhood is the oldest community within the city of Boston. It was professionally planned by an engineer named Thomas Graves, who came to settle the area in 1629. Recognized as the first capital in Massachusetts Bay, the neighborhood was named after King Charles I who was the current leader of England.
The community used to be much larger having once including the neighboring Boston suburbs of Woburn, Malden, Melrose, Everett, Stoneham, and South Medford. Although Charlestown temporarily became its own city in 1848, it was later annexed by Boston in 1874. Today, it is one of the best neighborhoods in Boston offering easy access to all the other areas nearby.
Charlestown Location & Transportation
Placed at the edge of a small peninsula, Charlestown is bordered by the Mystic River to the north and the Charles River to the east. It is located only two miles north of downtown Boston across the North Washington Street Bridge. The western border follows Rutherford Avenue up to the point where it becomes Alford Street and extends across the Malden Bridge to the north.
With bridges and highways extending to nearly every part of the Boston metropolitan area, transportation options are available all over town. Only about half of local workers commute to work with their own vehicles while the rest use buses or the MBTA Orange Line train. The average commute time for people living in Charlestown is about 20 minutes.
People & Culture of Charlestown
Since the late 1980s, the Charlestown neighborhood has changed dramatically due to its close proximity to downtown. It is packed with colonial-style architecture and has a unique culture to that of the big city. Newcomers relocating to Charlestown will enjoy a calm, tranquil lifestyle but with fun nightlife and other activities close by in Boston.
Over the years, the Charlestown population has grown to 16,439 people that is split among 7,869 households. With a median age of 34 years old, about 19% of the population are children under 18. Around 43% of households have one person, while about 30% are married, many of them with children.
A huge portion of the local population has an Irish-American background because of the many who came during the Great Irish Famine of the 1840s. Charlestown demographics add up to about 72% Caucasian, 10.5% African American, 8.4% Hispanic or Latino, and 7.5% Asian.
Places to Eat, Things to Do, & Shopping in Charlestown
While residents living in Charlestown are only a couple of miles from all the great things to do in Boston, they also have plenty of enjoyable activities close by within the neighborhood's borders as well.
Great Restaurants in Charlestown
With a handful of good places to eat, one of the top spots in Charlestown is Pier 6 and its delicious seafood. The restaurant offers waterfront views and a deck on the roof that gives diners a nice look at the rivers nearby. Their menu features delicious plates that include blackened swordfish tacos, crab cakes, pan-seared Atlantic salmon, grilled hanger steak, and much more.
View this post on Instagram
Another popular restaurant in Charlestown is Brewer's Fork, where you'll find mouthwatering wood-fired food. Visit their rustic space and enjoy pizza and sandwiches along with a refreshing drink menu.
View this post on Instagram
Fun Charlestown Local Activities
In one of the most history-filled cities across the United States, people moving to the Charlestown neighborhood will love all of the American Revolution sites and scenery found around the area. Among the most frequented destinations, the Bunker Hill Monument stands at 221 feet tall with almost 300 steps. Once you reach the top, it's difficult to beat the views you'll get of Boston and other surrounding communities.
View this post on Instagram
Another beloved location offering fun things to do in Charlestown is the Boston National Historic Park. Home to incredible experiences like the USS Constitution Museum, the 43-acre park provides a close look at Boston history and many foundational aspects of our country. Take a tour, head to one of the two visitors centers, or simply wander around this beautiful Charlestown attraction.
View this post on Instagram
Convenient Shopping Destinations in Charlestown
If you want to make sure there are good shopping areas in the area before relocating to Charlestown, you'll be happy to know there is easy access to the nearby CambridgeSide shopping center where you'll find everything from name-brand shops to local boutiques.
View this post on Instagram
List of Charlestown Amenities
Charlestown Real Estate
As you decide what part of Charlestown to live in, your search will lead you to a great variety of housing options. With about 46% of residents living in Concordia owning their homes, people are less likely to purchase in this comfortable Boston neighborhood.
A look at homes for sale in Charlestown will point you to the median listing price of about $804,000. Some locations in more desirable parts of the neighborhood can sell for 2% more than their listed amount. On average, homes end up selling in about 19 days for about $747 per square foot with a down payment of 20% or so.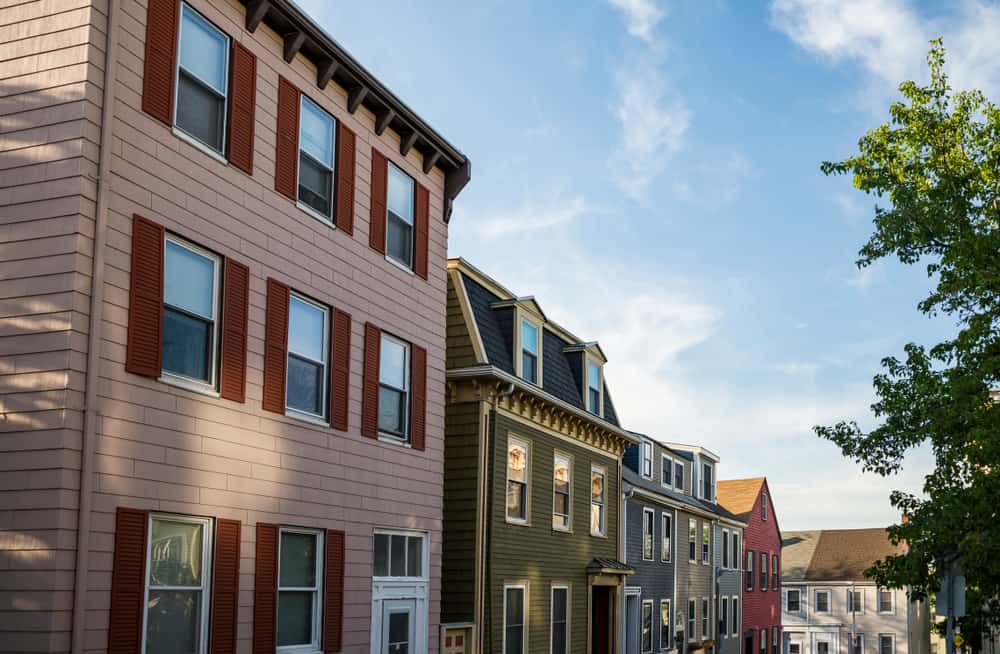 If you plan to buy a house when moving to Charlestown, expect to pay upwards of $380,000 for a one-bedroom, one-bathroom location. While properties up to 3,300 square feet can have price tags close to $2 million.
Would you prefer to join the majority of locals residing in Charlestown and rent instead? As you view the apartment and home leasing choices, you'll find prices between $1,798 for a one-bedroom or studio apartment and $3,783+ for a larger home. These amounts will mainly depend on where you end up and the size of the location.
For any parents relocating to Charlestown with their kids, you'll be joining either the Boston or Cambridge Public School Districts with local options such as:
Warren-Prescott Elementary School

Harvard-Kent Elementary School

Clarence R Edwards Middle School

Charlestown High
Ready to Call Charlestown Home?
The top-rated Boston neighborhood of Charlestown offers its residents a quiet lifestyle but provides easy enough access to enjoy the fun, upbeat culture of downtown as well. Living in Charlestown comes with many advantages that make it a great place to call home.
Planning on relocating to or from Charlestown? Mass Bay Movers is a dependable moving company that would love to assist with your upcoming transfer. Call (978) 587-3775 today or complete the Request a Quote form on this page for a free moving estimate!